Latin American operator LATAM is taking a further 13 Airbus A321neos, as it receives the first from a previous commitment to 76 of the twinjet variant.
The carrier's initial aircraft, leased from AerCap, is configured with 224 seats.
Registered PS-LBB, the A321neo is fitted with Pratt & Whitney PW1100G engines and will be operated by the Brazilian division of LATAM.
It was flown from the Hamburg Finkenwerder assembly site to Espargos in Cape Verde on 30 September, before conducting the onward leg to Fortaleza in Brazil.
The delivery flight used a 49% blend of sustainable aviation fuel.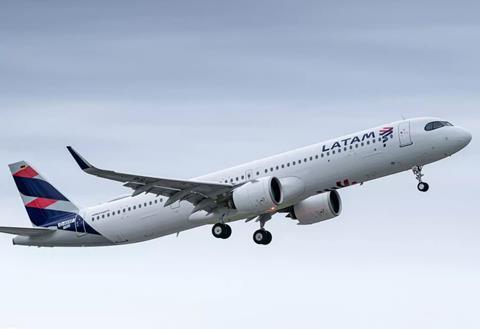 Airbus says the airline has reselected the A321neo with an order for 13 more of the type, in order to expand its network.
"Our fleet renewal and modernisation strategy is fully aligned with our sustainability commitment and brings us closer to the goal of becoming a carbon-neutral group by 2050," says LATAM Airlines Group chief financial officer Ramiro Alfonsin.