Leasing companies engaged in a legal battle with Saudi Arabian flag-carrier Saudia over aircraft payments have been denied access to documents held on the mobile phones of two senior executives of the carrier, including chairman and former director general Saleh bin Nasser Al Jasser.
The long-running case centres on the lease of 50 Airbus jets, comprising 20 A330-300 Regional twinjets and 30 A320s, agreements for which were originally concluded between Saudia and International Airfinance Corporation.
These contracts were subsequently reassigned to other lessors, the claimants in the dispute. The heart of the case is a disagreement over escalation factors in the leases, as a result of which the lessors allege Saudia has underpaid by $38.7 million while the airline alleges it has overpaid by $21.9 million.
UK High Court documents state that the basic monthly rents of the A330s and A320s are respectively $640,000 and $318,000 and that this is subject to an Airbus escalation factor as well as a factor relating to the LIBOR benchmark interest rate.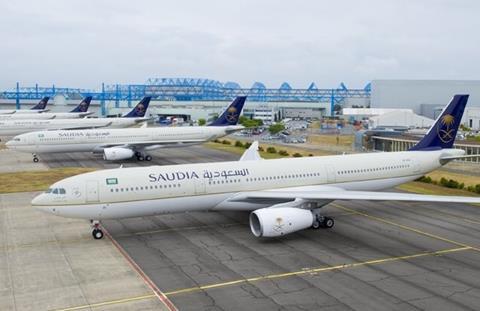 According to a 1 November ruling, the lessors had sought disclosure by Saudia of documents held on the personal devices of Al Jasser – who is also the Saudi transport minister – and former fleet-management vice-president Abdulrahmen Altayeb, Al Jasser's senior aide during his term as director general.
The claimants maintain that both executives were "critical figures" in the lease negotiations, with Al Jasser signing all 50 as well as other related transactions.
According to the ruling the "central issue" is whether the data and documents on the phones is within Saudia's control, and whether the court should order disclosure. This resulted in detailed submissions from both sides regarding provision in both Saudi labour law and Shari'ah law, employment contracts, and consideration of the complexity of protecting data.
The judge in the case, Peter McDonald Eggers, states that he is "not satisfied" that the evidence supports the claim that Saudia has a right to access, inspect or take possession of the documents on the phones.
He has dismissed the lessors' application, ruling that the court "does not have jurisdiction" to make the orders sought regarding disclosure of the phones' data, as they are "not within the control of Saudia".