Air Belgium has been holding discussions with a new investor after turning in a full-year loss of €44.6 million ($49 million), nearly four times deeper than the previous deficit.
The airline's auditor, Mazars, points out that cumulative losses have reached €91.6 million, and remarks that uncertainty exists which could present "significant doubt" over the company's ability to continue operating.
Air Belgium underwent a capital increase in February last year, and certain shareholders granted loans of €7 million to the company in December.
The airline says it has entered discussions with new investors for a new capital hike, in order to strengthen equity. These talks resulted in a binding offer by a potential investor on 30 June.
Air Belgium believes it can return to profitability in the third quarter of this year as a result of the developments.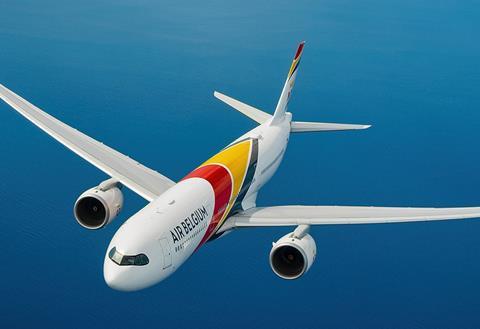 The carrier operates passenger services to holiday destinations including Mauritius and South Africa.
But it discontinued services to Caribbean locations in March this year because they were proving unprofitable, the result of French carriers being "extremely competitive" and offering fares nearly 50% lower.
Air Belgium says the decision has freed aircraft capacity to allocate to its charter and wet-lease activities.
The carrier generated revenues of €228 million last year, up by 74%, through an increase in its passenger and freight transport.
But it states that the renewal of its fleet – the introduction of two Airbus A330-200s to replace A340-300s – was delayed by six months, to the fourth quarter of 2022, by the late arrival of the aircraft.
"The company missed the high summer season for [wet-lease]," it adds. Air Belgium's passenger fleet comprises the two A330-200s and a pair of A330-900s.
It also generates revenues through freight transport. Air Belgium conducts wet-lease for logistics firm CMA-CGM and has four aircraft – two converted A330-200 freighters and two Boeing 747-8Fs – assigned to Chinese group Hongyuan.
The carrier says it experienced delays with the A330 and 747 freighter introductions, which had an impact on income.
Air Belgium's board acknowledges the uncertainty over business continuity but says its actions to cut the least-profitable routes, review its passenger network, continue its cargo charter services and search for investors support treatment of the company as a going concern, particularly because it forecasts that July and August should be profitable months.