Polish flag-carrier LOT aims to increase its fleet by 50%, to around 110 aircraft, over the next five years, part of a newly-unveiled strategic path.
The airline adds that, over the 2024-28 period, it seeks to lift passenger numbers by 70% to nearly 17 million.
LOT intends to add another 20 scheduled destinations including long-haul routes, and improve its service quality with new interiors and features such as wi-fi access.
"The strategy…is a promise for the decades to come," says chief executive Michal Fijol.
"Global aviation is evolving before our eyes, and we will be one of the leaders of this evolution."
As part of the five-year strategy, the carrier adds, it will focus on "sustainability transformation" and supporting tourism development.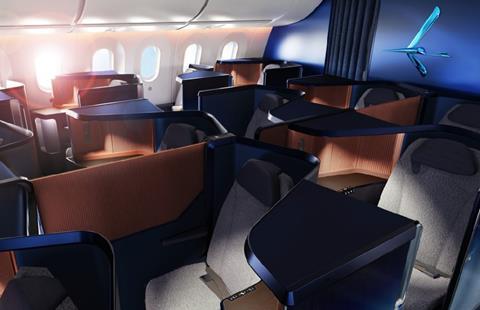 The airline's Boeing 787-8s will be refreshed with a new cabin design and seat replacement, as well as an upgraded in-flight entertainment system and online connectivity.
LOT says interior designer Tangerine has developed the concept, and partners for the refit will include seat specialist Recaro – for all three cabin classes – as well as communications firms Viasat and Safran Passenger Innovations.
The business-class cabin on the twinjets will be changes to a 1-2-1 layout, to improve aisle access, and each position will have an individual privacy door.
"As one of the oldest and most recognisable Polish brands in the world, we do not forget to include touches from our cultural heritage," says LOT director of product development Izabela Leszczynska.
LOT says the initial refitted 787s will emerge in 2026.