Germany's Lufthansa Cargo is to lease a pair of Airbus A321 converted freighters through a long-term agreement with lessor BBAM.
Lufthansa Cargo had stated in July that it would "permanently" convert two A321s into freighters, to expand its cargo transport capabilities, from early 2022.
The aircraft will be operated by the Lufthansa CityLine division and based in Frankfurt, the carrier added, citing the rising demand for e-commerce as the rationale for the modification.
BBAM says the converted A321P2F will be able to transport 28t of payload, "significantly" more than can be managed in the hold of short-haul passenger aircraft.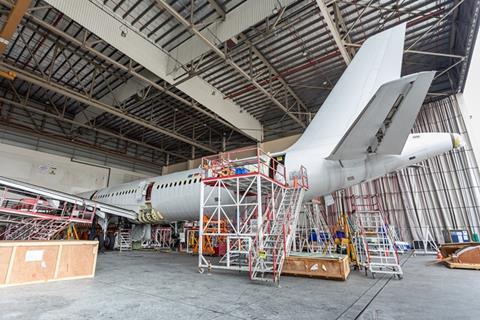 Lufthansa Cargo chief Dorothea von Boxberg says the conversion will give the A321s a "second life".
It will provide "unique benefits", she adds, including higher capacity, strong economics, and lower weight, and give the operator "a great deal of flexibility" in its freight management.
BBAM is acquiring the freighters through conversion specialist EFW. The aircraft will feature 14 full container positions on the main deck, another 10 for A320-specific containers, plus pallet capacity on the lower deck.
"We are glad to provide Lufthansa Cargo with a new tool to help maximise its cargo operations," says BBAM chief Steve Zissis.