Lufthansa Group has averted a threatened pilot strike at two carriers after reaching a partial agreement with the cockpit union.
The German operator had been facing a 48h strike by Lufthansa pilots and a 72h walkout by Lufthansa Cargo crews, both set to commence on 7 September.
But the two sides agreed to meet on 6 September, with Lufthansa putting forward an "improved" offer, the company states.
Lufthansa Group says a previous demand by pilot union Vereinigung Cockpit covering automated inflation compensation has been replaced by a specific pay increase figure.
The company had bemoaned the new strike threat, following disruption caused by industrial action by pilots on 2 September.
"We know that our pilots would much rather fly than strike," says Lufthansa Group chief human resources officer Michael Niggemann.
Vereinigung Cockpit says the new arrangement amounts to a "comprehensive package of monetary and structural issues".
While the union says the "partial solution" is awaiting "elaboration", it adds that the package is "essentially agreed" and that it is cancelling the threat of a 7-9 September strike.
"Important first steps towards sustainable co-operation were taken," says the union's collective bargaining chair, Marcel Grols.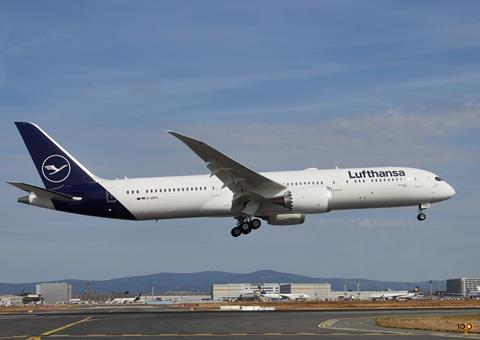 Lufthansa Group had to cancel some 800 services as a result of the 24h strike on 2 September.
The company had said it was baffled by the union's decision to take industrial action, insisting that Lufthansa Group has made a "very good" offer to crews despite the continuing impact of the pandemic.
That offer had centred on an 18-month period over which Lufthansa and Lufthansa Cargo pilots will receive a hike in basic remuneration over two stages, with entry-level salaries particularly benefiting.