Lufthansa Group has reached a tentative seven-year agreement with energy firm Shell potentially covering provision of sustainable aviation fuel up to the end of the decade.
Under the exploratory – and still non-binding – memorandum, Shell would use a broad range of feedstock to produce the fuel.
The two sides will "contemplate" negotiating a definitive purchase, for up to 1.8 million tonnes of fuel, to be supplied at various airports over 2024-30.
Shell says that, if the agreement is firmed, it will be its largest commitment to date for sustainable aviation fuel.
Lufthansa Group used 4.3 million tonnes of fuel across its aircraft operations last year, but over 10.4 million tonnes in pre-crisis 2019.
"As an industry we have to work jointly towards making flying more sustainable and to achieve net-zero carbon emissions by 2050," says the German operator's head of fuel management supply, Katja Kleffmann.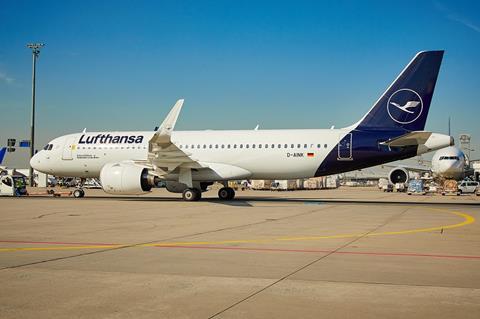 Shell claims that most supply agreements for sustainable aviation fuel rely on just one technological path, but that it is aiming to use four different approved mechanisms.
It says the Lufthansa Group pact will contribute to Shell's aim for sustainable products to account for at least 10% of aviation fuel sales by 2030.
Shell Aviation president Jan Toschka says the potential agreement is a "milestone", adding: "It is encouraging to see large flagship carriers coming to us to discuss sustainable aviation fuel supply deals, knowing there will be a lot of things to be defined and determined at a later stage – including established price markers."