Lufthansa Group is holding talks with Airbus and Boeing to bring smaller aircraft into the fleet in place of the larger types the company is withdrawing as a consequence of the air transport crisis.
Chief executive Carsten Spohr told a German symposium, hosted by the London School of Economics on 15 February, that he clearly recalled the day, 29 January 2020, on which Lufthansa started cancelling services, initially to China, in response to the early signs of the pandemic.
"We had days in the spring where we just flew 1% of our passengers. Usually we have 300,000-350,000 people every day on board our aircraft. And there were a few days where we had just a few thousand on board."
Some 700 of the company's 800 aircraft were parked, including all 14 Airbus A380s which, he said, "we all thought was the beginning of a new time in aviation".
"Let's just think about the fact that any of these aircraft cost about $300 million," he added.
"To have that on the ground useless, it's something which is just terrible compared to the efficiency focus you had in all the years, in a somewhat successful way, before."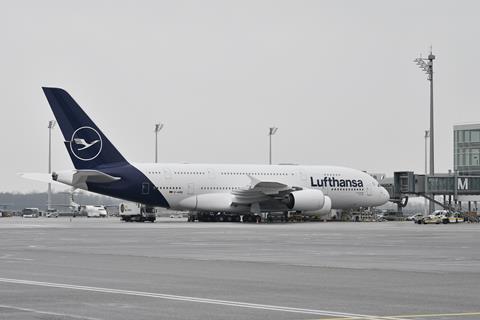 He says the crisis has spurred Lufthansa Group to rethink its fleet structure, adding that the pandemic "allows us to modernise the fleet faster than we had expected", given that the company would otherwise have had to maintain its previous fleet planning.
"We are in the process of negotiating with Airbus and Boeing on additional, smaller, more-efficient aircraft to be brought into the fleet, replacing some of the huge, big but older aircraft we are putting on the ground – [Boeing] 747s, Airbus A380s," says Spohr, without elaborating on the potential number of aircraft or the types considered.
"So there is some modernisation which is accelerated by the fact that the fleet gets smaller. We wouldn't have been able to afford that for the large fleet we were operating before, because we couldn't have been able to afford to ground aircraft like the A380 or the 747, which are only 10-15 years old."