Lufthansa Group is to acquire seven Boeing 777-8 freighters, as well as three 777Fs, while taking seven more 787s to offset capacity shortfall from delays to its 777-9 order.
The German company's supervisory board has approved the introduction of the additional twinjets.
"By purchasing these state-of-the-art aircraft, we again underline Lufthansa Group's ability to invest in and shape the future," says chief executive Carsten Spohr.
Deliveries of the 777-8Fs will commence in 2027.
The company states that it will supplement its cargo capacity with three more 777Fs to address "persistently high" demand for air freight.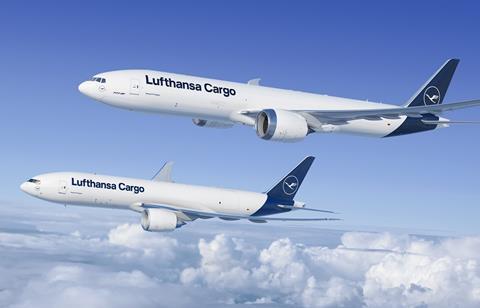 One of these will be a 777F which is being re-allocated to Lufthansa Cargo in the next few weeks having been operating for another carrier.
The other two aircraft will be delivered new.
Lufthansa Group adds that it will extend leases on two 777Fs which were originally due to run to 2024.
With the delivery of the passenger 777-9s slipping from 2023 to around 2025, Lufthansa is to introduce another seven 787-9s in 2025-26.
Lufthansa says the additional 787s were originally set to be delivered to other airlines. Its own previously-ordered 787s will have their deliveries rescheduled – some aircraft will be advanced to 2023-24.