Lufthansa Group has flight-tested a measurement probe system which is crucial to the adaptation of one of the operator's Airbus A350-900s to a climate-research aircraft.
The German flag-carrier disclosed two years ago that it would modify the twinjet (D-AIXJ) to serve as a flight laboratory.
It says it aims to commence research flights on the Lufthansa network from next year, gathering information for the European IAGOS-CARIBIC project which uses in-service aircraft to obtain atmospheric data.
"Our aim is to make a valuable contribution to climate research," says Lufthansa Airlines chief Jens Ritter.
"The data that our aircraft will collect worldwide in the future will help to improve today's atmospheric and climate models and thus their informative value for the future climate on Earth."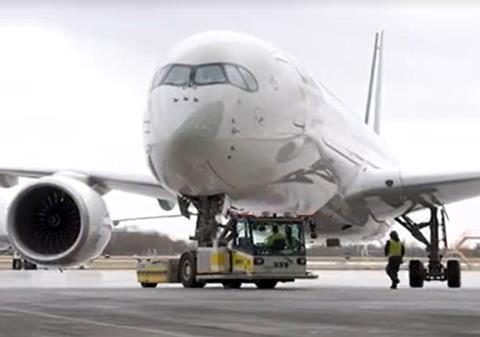 Lufthansa Group personnel have fitted the measurement probe to the A350's lower fuselage and carried out test flights over southern Germany.
It claims the system is "the most complex of its kind" with sensors for precise, high-frequency measurement of temperature and pressure.
The project also involves development of a laboratory system, weighing some 2t and featuring around 20 instruments, for installation in a cargo container.
This laboratory will be connected to the external measurement probe to enable analysis of the atmosphere as the aircraft flies on scheduled services.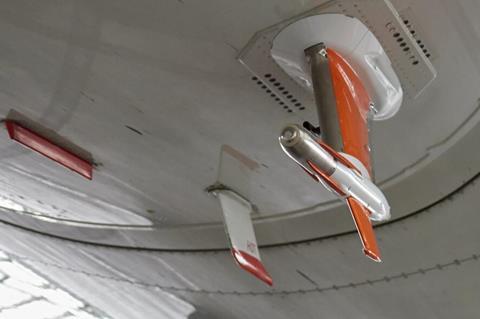 Lufthansa Group says the laboratory will record the presence of over 100 aspects including trace gases, aerosols, and cloud composition between the ground and the tropopause – the boundary between the troposphere and stratosphere.
The tropopause height varies substantially between the equator and the poles but is typically around 36,000ft.
"Climate-relevant parameters can be recorded at this altitude with significantly higher accuracy and temporal resolution on board the aircraft than would be possible with satellite- or ground-based measurement systems," says the carrier.
Karlsruhe Institute of Technology is supporting the A350 modification, and the organisation's Andreas Zahn – who is co-ordinating IAGOS-CARIBIC – says the data will serve to improve the predictive capabilities of climate models.
"We can understand which atmospheric processes are changing and how in climate change, in an altitude region where most of the atmospheric radiation budget – the greenhouse effect – is generated and changed," he states.
"We can thus identify process-specific errors and their causes in climate models."
Lufthansa Group has long been involved in climate-research programmes, with the modification of several aircraft over the years. The company previously used an Airbus A340-600 (D-AIHE) for work connected to the CARIBIC project.