Madagascar Airlines has declared that its financial situation is "critical" and it intends to implement urgent measures including withdrawing long-haul services and focusing on its domestic network.
The carrier emerged in April last year, in the post-pandemic period, but accumulated losses of $25 million over the course of nine months in 2022, and states that it expects "approximately the same" for this year.
Madagascar Airlines adds that its debt has "significantly worsened", reaching $36 million in the space of 18 months.
It attributes the losses to the airline's attempt to maintain a long-haul operation through wet-lease arrangements, as well as the high price of fuel.
The combination of the wet-lease expenditure and the cost of fuel has resulted in monthly losses of $2.8 million, it states.
"This situation had the effect of triggering a vicious circle," it adds. "Heavy operating losses on long-haul quickly dried up the company's cash-flow, leading to the impossibility of paying our suppliers – including for parts and maintenance equipment."
The resulting delays in maintenance have forced a "large part" of the ATR turboprop fleet to become unavailable, it adds: "This operational fragility has caused…numerous delays [and] cancellations."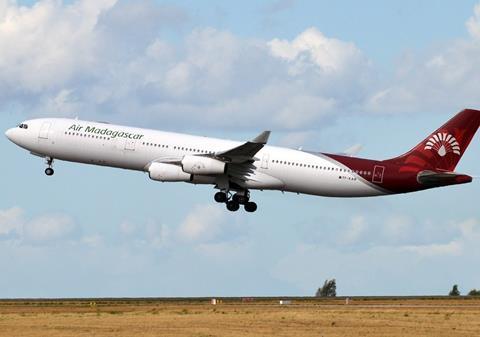 Madagascar Airlines says an "immediate halt" to the "untenable situation" – including a "temporary" suspension of economically-unviable European long-haul flights – is required. The airline will maintain an international codeshare with French operator Corsair.
It will "restore fundamentals" by shifting its focus to the domestic network, restructuring the ATR fleet by returning a number of aircraft, refurbishing others, and replenishing its maintenance capabilities.
The airline plans to merge the distribution systems of its component operators, Air Madagascar and Tsaradia, and seeks to return to the IATA billing system from which it was excluded in 2021 – a measure which, it adds, will allow it to consider tie-ups with other carriers.
Chief executive Thierry de Bailleul says the suspension of long-haul services is a "necessary evil" and will enable it to "straighten out" the company's accounts without the need for public funds.
"By refocusing on the domestic network for a few months, Madagascar Airlines will be able to redress its accounts and regain profitability," he states.
De Bailleul claims the carrier will resume long-haul services "within a few months" once it is in position to dry-lease, rather than wet-lease, aircraft.
Madagascar Airlines has appointed a new chair, Mamy Rakotondraibe, and it is looking to implement a new business plan, designated 'Phoenix 2030', which is undergoing validation by public authorities.
"This new business plan demonstrates that profitability, development and renewal are entirely within the reach of the national company," the carrier says.