Lebanese flag-carrier Middle East Airlines' chief, Mohamad El-Hout has lamented the political situation in the country, as the airline strives to recover from impact of multiple crises.
MEA has suffered not only from the effects of the pandemic, but the severe economic situation which gripped the state, as well as the devastating port explosion in Beirut two years ago.
Speaking to FlightGlobal at a SkyTeam alliance event in London on 27 September, El-Hout said the combined effects had been "very bad".
"We've taken all the measures to survive, to keep operating," he says. "We've succeeded in doing that in the last three years."
Lebanese politicians have yet to agree on a successor to president Michel Aoun whose term ends in October, and El-Hout believes the country is suffering as a result of the indecision.
"We have a lack of leadership," he says. "Lebanon has all the potential to survive and revive, and rise again."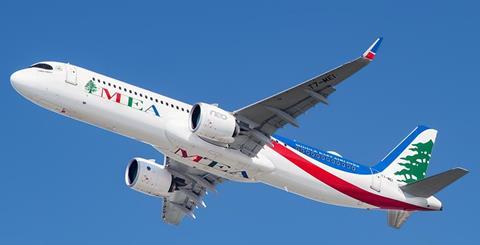 MEA undertook a fleet renewal with Airbus A321neo-family jets and, as part of its efforts to counter financial difficulties, generated additional liquidity by entering sale-and-leaseback agreements on them.
The carrier is an early customer for the A321XLR but El-Hout indicates he is yet to be convinced that the deliveries, set for 2024, will not be delayed following the slip in the entry-into-service schedule.
El-Hout says this summer has been "excellent" with a strong rise in passenger numbers, although the figure is still 30% below the pre-crisis levels.
He expects the carrier to break even this year, and adds that the carrier's management is focused on preserving resources: "The objective is to survive, not make money."