Mexican operator Aeronaves TSM is committing to take six converted Bombardier CRJ200 freighters through an agreement with modification specialist Aeronautical Engineers.
Aeronaves, which is based in Saltillo, west of Monterrey, particularly specialises in cargo transport and operates a large and diverse fleet including McDonnell Douglas DC-9s, Boeing MD-80s and 737s, Convair 640s and Fairchild Metroliners, as well as CRJs.
The first of the six additional aircraft is already undergoing conversion, to a CRJ200SF, at the Commercial Jet facility in Alabama.
Aeronautical Engineers says this initial modification will be completed in June this year.
All the CRJ200SFs will be finished by June 2024, the company adds. The modified aircraft will provide capacity for eight containers or pallets, and include an Ancra cargo-loading system.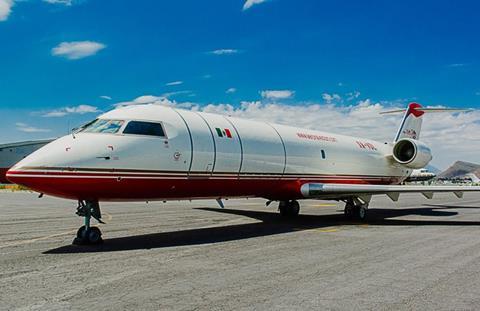 Aeronaves TSM's agreement for the conversions follows a recent deal with Aeronautical Engineers for a further 737-400SF – bringing its total to eight for the Mexican operator.
It identifies this latest 737 as MSN26308, which was originally delivered to Korean carrier Asiana in 1994.
Modification of the twinjet – which has also been operated by Aegean Airlines and Southern Air – will begin in May. Aeronaves is aiming to have 20 of the type, according to Aeronautical Engineers.