Mexican operator MasAir is to receive a pair of converted Airbus A330-300 freighters through an agreement with Irish-based lessor CDB Aviation.
CDB Aviation had disclosed last year that it was ordering the modification of two A330-300s by specialist EFW, its first step into the converted freighter market.
It stated that the aircraft would be available for operation in early 2022.
MasAir will lease the initial pair of aircraft through a long-term agreement, says CDB Aviation, with both being delivered in the first half of next year.
The carrier operates three Boeing 767 freighters – a -200F and two -300ERFs.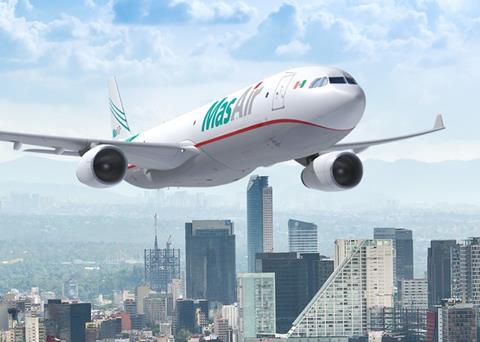 CDB had previously indicated that it intended to offer the A330 freighters as a potential successor to older models including the 767.
MasAir chief executive Luis Sierra says the A330s will provide "greater capacity and efficiency", adding: "With these additional [freighters] we continue the path of growing our fleet with more efficient and longer-range aircraft."
The aircraft will support the cargo operator's strategy, says CDB Aviation chief marketing officer Peter Goodman, equipping it to cater for expanding e-commerce.
CDB Aviation chief Patrick Hannigan adds that the lessor was "motivated by the potential" of the A330 as a freighter, adding: "[This] segment, served nowadays by aging twinjet aircraft, is poised for growth with the need for a new generation of medium widebody freighters."