Middle Eastern freight operator Texel Air is to establish a Pacific region sister carrier, which will be based at Auckland in New Zealand.
Texel Air is located in Bahrain and uses a fleet comprising several variants of Boeing 737 freighter: two 737-800s, two 737-700s and a 737-300.
It states that the Auckland airline – to be branded Texel Air Australasia – will initially have a 737-800 converted freighter, and two more will be introduced by the end of this year.
The new operation was formally unveiled on 10 June.
Texel Air's Bahrain arm has been operating its 737-300 in New Zealand under a contract with NZ Post and Parceline Express for the last two months, prior to the 737-800's arrival.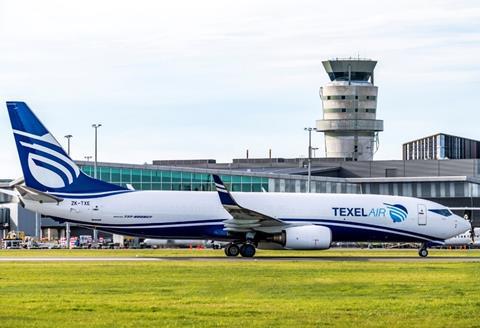 The company aims to expand the overall group fleet to 10 aircraft by 2026, mainly flying wet-lease capacity in Australia and New Zealand to support cargo and express services.
"These next steps are sure to create employment opportunities and boost economic growth," says Texel chair John Chisholm, who is a New Zealand national.
He says the development of a carrier in his home country is the "culmination of my life's work" in the logistics industry.
Texel Air Australasia's initial aircraft (ZK-TXE) was originally delivered as a passenger jet to Korean Air in 2001. It was operating with Texel's Bahraini arm as A9C-GWC before being transferred to the New Zealand registry.