Micronesian carrier Nauru Airlines has introduced a Boeing 737-800 freighter to its fleet, claiming it to be the first of the model in the Australian region.
Nauru Airlines has an operational base in Brisbane.
It states that the 737-800F will expand its cargo capabilities, adding capacity to a fleet which already includes a pair of 737-300 freighters alongside its passenger aircraft.
The airline's chairman, Kieren Keke, says it enables the carrier to ensure that it "can service the needs of Nauru and the central Pacific", along with its Australian customers.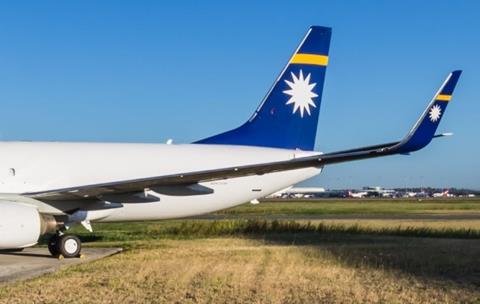 Nauru Airlines unveiled the freighter, which has a payload capability of 23.9t, at an event on 5 August.
Originally delivered as a passenger 737-800 to XL Airways UK in 2002, the aircraft (VH-8TG) was also in service with Garuda Indonesia and Sriwijaya Air before being converted to a freighter last year.
Nauru Airlines' passenger fleet includes 737-300 and -700 twinjets.