Prising an airline from the grip of the pandemic is quite the in-tray task for a newly-appointed managing director.
But Wizz Air UK's new leader, Marion Geoffroy, who brings her long experience as an aviation lawyer to the role she assumes from former head and fellow lawyer Owain Jones, believes that – even amid the continuing uncertainty – there is a case for rehiring and rebuilding.
"Trends are very encouraging," Geoffroy tells FlightGlobal. "The UK is a very resilient market."
While the UK's summer pick-up started later than that in continental Europe, the consequence of the UK government's "very restrictive" colour-coded travel permissions list, Geoffroy says Wizz Air UK has seen "good results" in the past few weeks – even though the airline was operating less than half its fleet in July and was still not back to full aircraft utilisation in August.
She says the London market is "strong", with a "good mix" of leisure and visitation traffic, and the carrier has returned to operating from its northern Doncaster-Sheffield station, although the government limitations meant Wizz Air UK was not able to open its Cardiff base in the summer.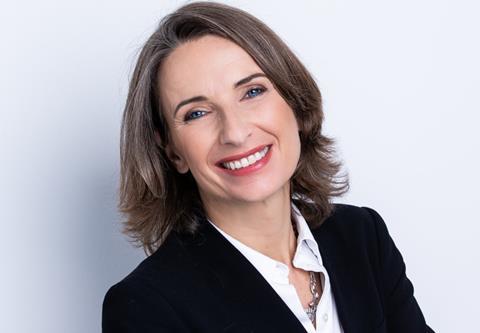 Wizz Air UK turned in a small operating profit, £2.3 million, in the financial year to March 2020. before the onset of the pandemic. Geoffroy indicates that, after the carnage of the subsequent 15 months, the airline is starting to return to profitable services.
"Having aircraft in the fleet not operating has a cost," she says, pointing out that the airline has been "very selective" in rebuilding its network. "But the routes we operate are contribution-positive, whatever market we look at."
The carrier is operating some 10 or 11 of its fleet of 14 Airbus A321 and A320 aircraft, and Geoffroy is overseeing a recruitment drive to bring all its jets into service by December, in preparation for the winter holiday season.
"We're recruiting for three aircraft," she says which, taking into account all the required cockpit and cabin crew, equates to over 200 personnel.
Geoffroy stresses that Wizz Air UK – set up to defend the budget airline's traffic rights during the UK's 'Brexit' withdrawal from the European Union – is recruiting in its home country, for UK-licensed pilots, presenting an opportunity for cockpit personnel affected by the EU's post-Brexit non-recognition of UK qualifications.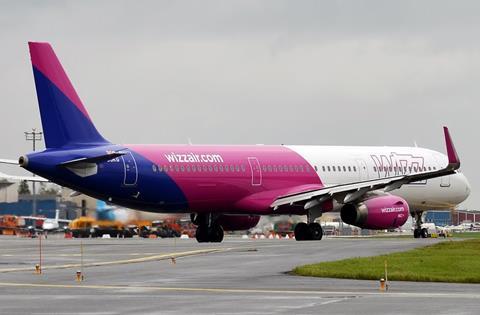 If Wizz Air had previously struggled to find enough senior pilots and captains for its rapidly-expanding European operation, the situation appears to have reversed.
"There is unfortunately – or fortunately – a pool of pilots made redundant by other airlines globally," says Geoffroy, adding that this puts "a lot of experience on the market".
"We are recruiting mostly fresh pilots with different levels of seniority, because we also believe it's important to have a diverse type of recruitment," she adds, pointing out that there are "very good candidates" with a variety of skills for whom Wizz Air UK can adapt its training.
"Recruitment is basically the number one activity in our flight operations and cabin operations department. We want to have people, but we want to have the right people."
As one of the relatively few female airline chiefs, Geoffroy is keen for women to be among those 'right people' – particularly on the flightdeck.
"With or without me, there's a vision at Wizz that diversity – whether it's gender or cultural – is only beneficial," she says. "Having me there is an additional indicator of our willingness to progress on this front as well."
Wizz Air UK has some "great women pilots", says Geoffroy, adding that she wants to use her presence to encourage more women, at an earlier stage of life, to consider a career in the cockpit.
"What we want to demonstrate…is that this is a job for women, it's training for women – and being here myself, I will put a lot of emphasis on that.," she states.
"We're visiting schools because it's not when women are 25 that you should start telling them, 'Why not be a pilot?' It's earlier – when they're five, six, seven, eight – when you should show them.
"We're developing some campaigns where we'll have our women pilots visiting schools to ensure they are visible and ensure this is something we can influence.
"It's a very long-term solution. I don't believe the world will change from one day to another, and we have to act in the short term by trying to identify where the female pilots are that we could recruit in the mid-term."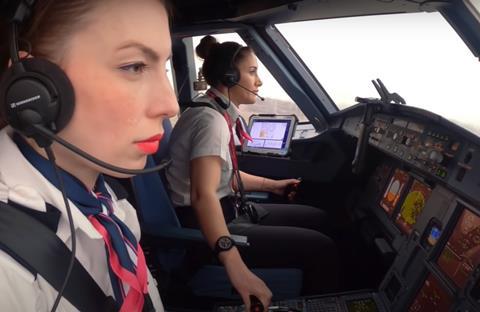 Geoffroy adds that Wizz want to promote the broader career opportunities generated by its "huge growth ambitions", and show candidates what they will be able to achieve over the next decade.
"I think this is the element which is really differentiating us," she says.
Wizz Air as a whole aims to be operating 200 aircraft in 2024 and currently has over 240 on order. The number which will be allocated to Wizz Air UK, beyond the current 14, is still to be determined.
"We'd like to be able to give precise numbers," says Geoffroy. "But the UK is a real-estate market. As much as we'd like to grow in [London's] Luton and Gatwick there are constraints…Luton cannot grow much in the short term and Gatwick is slot-constrained.
"There might be moves but it's not all within our control. But we'll try to seize as much capacity as we can in those markets."
Signs of recovery are emerging at Wizz Air UK, she believes, as the vaccination programme progresses and restrictions lift. Booking for London and the regional bases, some out to next summer, are "encouraging", she adds.
"There is a huge appetite for travel," she says. "While we see this general trend for late booking, we also see optimism as far as the medium and long term is concerned."
She describes the situation as "very mathematical", with higher demand tied not only to the easing of restrictions but also to customer confidence.
"Travellers want to have as much certainty as possible before they book," she says, even though there is plenty of flexibility to rebook or obtain refunds if conditions change. "It's more of a psychological behaviour than rational."
That a carrier which operates from Doncaster-Sheffield – an airport once known as Robin Hood – is being led by a woman named Marion is curiously apt, and more so given that Geoffroy has a gripe with the government's effectively enforcing a form of penalising taxation on passengers through the need to pay for expensive coronavirus tests.
She acknowledges that the government is "caught between the need for connectivity and a public health issue", but describes the testing requirements as "discouraging" given that some other countries provide the service at lower cost, or even for free.
"When it comes to public health [the government] has a very restrictive approach," she says. "I think the test is a good example. The cost of a test for people who are fully-vaccinated is prohibitive and I think that certain aspects will need to be revisited shortly.
"Of course we need to protect the country. But when we reach that level of double-vaccination, do we still need to punish those who are vaccinated? Because it's a monetary punishment, it's very expensive in the UK.
"I think the hassle of paperwork is something our customers deal with. They come to the airport three hours before the flight with their pack of papers they need to show at check-in desk and the gate.
"People are very resilient and understand the situation. But we're not making it easy to travel at all. And that's obviously a shame."