German start-up airline Universal Sky Carrier is preparing for the imminent launch of services, having obtained its air operator's certificate from the country's regulator.
Civil aviation authority LBA issued the air operator's certificate and operating licence to USC on 14 August, the company's managing director, Klaus Dieter Martin, tells FlightGlobal. LBA's latest published update of authorised carriers includes USC.
USC is commencing operations with a single Airbus A340-300 – MSN646 – which is being brought out of "parking condition", he says, and will be "ready for service by the end of this week".
This airframe was originally delivered to South African Airways in 2005 and acquired by Frankfurt-based USC last year.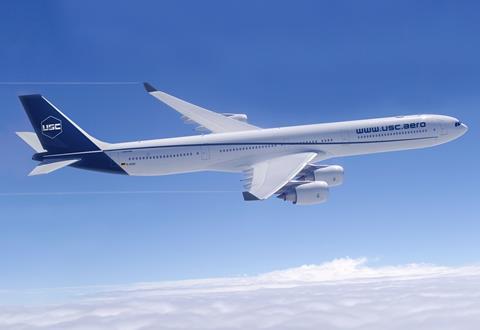 Martin says the airline aims "shortly" to take delivery of a second A340 – a -600 variant – which he identifies as another ex-SAA aircraft, MSN557, delivered new in 2004.
USC has "secured several A340s for purchase", adds Martin.
It will initially offer capacity to the wet-lease and charter market. The A340-300 is configured in two classes with 38 business and 215 economy seats.
But the airline will also convert a number of A340s to freighter configuration "as soon as possible", says Martin, through the Navis PTF modification provided by UK-based Avensis Aviation, which includes a full-size main-deck cargo door.