Scandinavian long-haul low-cost operator Norse Atlantic Airways is expecting to turn in its first quarterly profit over the summer months, having achieved full production of its fleet.
Norse Atlantic generated an operating loss of $88.7 million for the first half including a $26.2 million loss for the second quarter.
But it points out that the company was still in its start-up phase, and only began to increase production in late May.
The airline says it will be "fully operational" over the second half of the year, with 15 Boeing 787s – of which 10 will be flying directly for the carrier, with the other five subleased.
Revenues for the first half reached nearly $140 million with over $100 million achieved in the second quarter.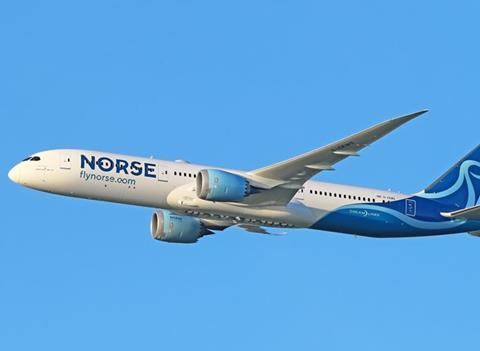 Chief executive Bjorn Tore Larsen says June marked the first month in which the carrier generated "bottom-line profits".
He expects the three months to 30 September to be the first profitable quarter for Norse.
"The move to profitability is driven primarily by having all 15 aircraft generating revenue for the first time," he says.
"Norse will be the first truly low-cost profitable long-haul airline."
Over the second quarter the airline's load factors improved from 67% in April to 82% in June, and this trend continued with 85% achieved in July.