Norway's government is not prepared to put any new capital into Scandinavian carrier SAS, but is prepared to consider converting outstanding debt into shares.
But the government will "not be a long-term owner" of the company, insists the Norwegian trade ministry.
The government had previously been a part-owner of SAS – along with the Swedish and Danish states – before exiting the company completely in mid-2018.
"SAS is in a demanding restructuring process and I hope the company emerges strengthened from the process as a sustainable airline," says Norwegian trade minister Jan Christian Vestre.
He says the government will continue to be a "constructive creditor", but its priority is to "look after the interests of the community" and limit any losses to the taxpayer.
SAS is facing "major challenges", he adds, and urges the company's management and unions to reach a solution that will benefit all sides.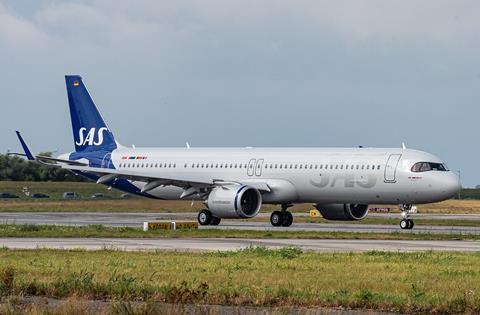 The government is a creditor of SAS to the amount of NKr1.5 billion ($154 million) following the carrier's decision to take advantage of a funding guarantee scheme to improve liquidity during the pandemic.
Vestre stresses that the government "will not contribute new capital", but states: "Given the situation of the company, however, we can – under certain terms – accept to convert outstanding debt into shares if we consider this necessary.
"This presupposes that the restructuring plan is sufficient and that all actors contribute to finding solutions."
He adds that the government does not plan to retain any shareholding from debt-to-equity conversion.
SAS has been seeking support from its creditors, including governments, as well as other stakeholders for a comprehensive restructuring plan designated 'SAS Forward'.
"It is important to carry out a restructuring that provides long-term competitiveness and profitability and the prerequisites for being able to continue [SAS's] central position in the Norwegian and Nordic aviation markets," says Vestre.
SAS says the Norwegian government's intended contribution is "appreciated" and the carrier describes the measure as an "important step" in the restructuring plan.
Sweden's and Denmark's governments each hold 21.8% of SAS, and both have already shown support – to varying extents – for the restructuring.