Scandinavian budget airline Norwegian is again proposing a debt-for-equity conversion as part of an effort to raise funding, just six months after persuading creditors to sign up to a similar scheme.
Norwegian says it will request "significant equitisation" of debt at market price, and seek approval for a NKr4 billion ($453 million) rights issue, after the Norwegian government denied further financial support to the carrier – prompting it to enter a court-supervised examinership in Ireland.
Under examinership Norwegian will reduce the scale of its aircraft platform, and the airline says it is asking for "continued support" from its shareholders to enable it to restructure its balance sheet.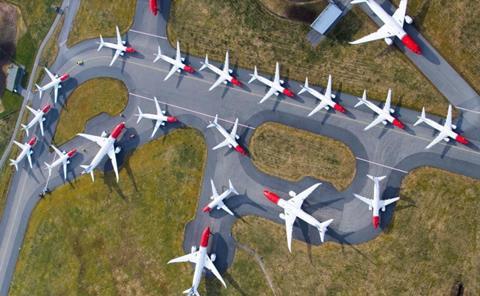 Norwegian had 163.5 million shares in circulation at the end of last year, but it issued a large number – over 2.9 billion – during a financial restructuring in May and, by the end of June, had added a further 197 million shares through conversion of debts.
Over the subsequent five months the airline has undertaken additional substantial equitisation of debts to various partners.
These include convertible bondholders, vendors owed overdue payables, and operating lessors to which the airline owes lease debts. Norwegian has also carried out debt-to-equity swaps for the estate of bankrupt Swedish pilot-training providers.
At the end of the third quarter leasing companies including AerCap, BOC Aviation and MG Aviation were the largest individual shareholders of Norwegian with a total stake of more than 32%.
But both AerCap and BOC Aviation have since been selling substantial quantities of their stock, heavily reducing their interests in the airline to a combined 8%.
Creditor appetite for revisiting a debt-to-equity mechanism has yet to become clear.
Norwegian's total share capital comprised just over 3.7 billion shares by 3 December, when the company disclosed its latest financing plan.
The airline has aircraft lease debt and aircraft financing liabilities amounting to NKr53.3 billion and it is proposing to convert all, or part, of this to shares in the company.
Norwegian is also seeking to convert up to NKr5.18 billion in senior loan agreements, as well as other current and non-current liabilities of NKr14.8 billion, to equity.
Equitisation of the aircraft leasing debts would involve issuing up to 10.67 billion new shares, with a further 10.36 million for the senior loans, and 2.97 billion for the other liabilities.
Norwegian's rights offering would involve issue of up to 800 million new shares.
The airline's share price has been trading below NKr1 since the beginning of October and the board is preparing, in response to stock exchange criteria for share market value, to change the nominal value of the stock to NKr10 through a 100:1 consolidation of the shares.
But the company is also intending to reduce the share capital by cutting the nominal value of the share from NKr10 to around NKr0.01 – ensuring that the nominal value does not limit the airline from issuing new shares below the NKr10 threshold.
Norwegian's proposed NKr4 billion rights offering would involve a subscription price as low as NKr5 but up to a maximum of NKr40.