Oman Air has indicated that closer ties with SalamAir are likely under a restructuring plan outlined by the flag-carrier's chairman.
The restructuring is intended to resolve continuing losses and mounting debts which have burdened the carrier since the Omani government withdrew from Bahrain-based Gulf Air in 2007 to concentrate on developing Oman Air as a long-haul operator.
Oman Air, which has a fleet of Boeing 787s, Airbus A330s and Boeing 737s, has not publicly published its financial statements for several years.
SalamAir emerged at the beginning of 2017 as a low-cost operator for the country, and uses Airbus A320-family jets.
The transformation plan for Oman Air involves evaluating the carrier's network and making decisions on maintaining specific routes.
"Integration with SalamAir is also high on the programme's agenda," says the airline.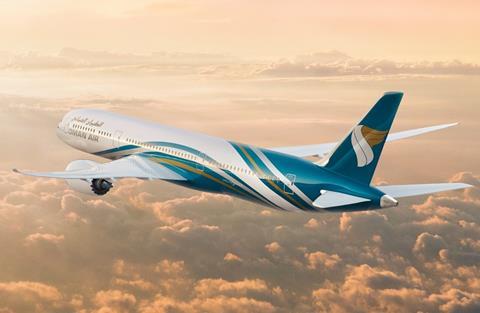 Chairman Saeed Al Mawali has disclosed the plan, which is founded on recommendation of consultancy Oliver Wyman.
"Oman Air will restructure with the aim of improving its basic operational performance and enabling it to better meet the needs of the market," says the carrier.
Restructuring of Oman Air is expected to take three or four years, it adds, and will focus on the key areas of financial sustainability, human capital, commercial matters and corporate governance.
It is set to embark on a board and executive management shake-up, and recruit industry specialists.
While Oman Air's strategy has included an 'Omanisation' element, to provide locals with opportunities to enter the aviation sector, it states that the recruitment effort will consider international personnel as well.
"Specialised committees have been formed to reformulate governance concerned with human, financial and commercial resources," it adds.
Oman Air has not detailed the extent to which the restructuring programme might affect the fleet composition or the overall number of personnel employed by the carrier.