Middle Eastern carrier Oman Air has received a Boeing 737-800 converted freighter, the airline's first dedicated cargo aircraft.
Oman Air, based in Muscat, took delivery of the jet after modification work at China's STAECO engineering facility in Shandong.
"The freighter will contribute to the growth of the air cargo logistics sector in Oman and beyond," says the carrier.
"[It] will be based at our strategically located Muscat hub and will enhance our ability to connect east and west."
Boeing says the aircraft is able to transport 23.9t of freight across a range of 2,000nm (3,750km).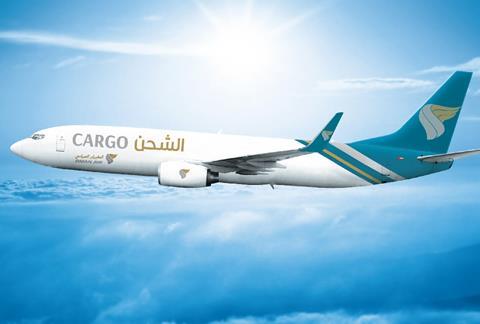 Oman Air's cargo division, which focuses on using belly hold capacity, has disclosed that freight volumes rose by more than 40% over the first half of this year.
Boeing Commercial Modifications vice-president Kate Schaefer says the converted jet brings "the right payload and range" to complement the airline's fleet.