United Airlines chief executive Scott Kirby believes Omicron – the highly mutated variant of Covid-19 recently discovered in South Africa – will be a short-term setback for airlines, but won't stop the industry from moving toward full recovery.
As coronavirus continues to mutate – and governments and pharmaceutical companies respond with better policies, vaccines and therapeutics – the airline industry's path toward recovery will be two steps forward and one step back, Kirby says at the Airline Passenger Experience Association Expo on 30 November in Long Beach, California.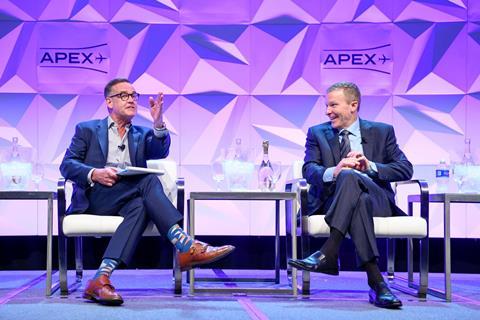 "The recovery from Covid was never going to be a straight line. We never thought it was," says Kirby. However, the recovery "continues to trend in the right direction".
The United chief executive says not enough is known about Omicron yet to predict with certainty its impact on business.
"But my guess is, much like Delta, it will cause a short-term decline in demand," says Kirby. "But the trough will be at a higher level than the trough was after Delta. And the next peak will again be higher. And, we're going to continue this way."
The industry will likely continue this pattern of recovery and setback until the whole world is vaccinated, he says.
In the near term, Omicron will likely reduce demand for international travel due to border restrictions and passenger concern about getting infected. Travel within the USA will likely also be impacted, but less so, Kirby says.
United Airlines was hoping to fly a full schedule of flights between the USA and Europe starting in the beginning of 2022.
"Our bookings for Europe, from sort of mid-October through middle of last week, were at the same level or higher than they were for 2019 bookings," says Kirby. "Business demand was still down a lot, but it had recovered to a level that was better than even domestic business demand, almost overnight, which just shows you the pent-up demand, the desire to reconnect with people."
Kirby remains bullish on the return of business class travel and sees competitor pessimism over the future of the offering to be an opportunity to grab market share.
"I love it when they're retiring their wide-body airplanes and getting rid of business class seats because [that's] more for us," he says. "I think business travel is coming back, including international [business class], because this is about human nature and nothing about human nature changed because of Covid."
Many businesses have grown accustomed to working remotely using video conferencing. However, Kirby believes it is difficult to build meaningful relationships over the internet. If anything, Zoom will replace phone calls, but not in-person business trips, he says.
"Zoom is great for transactions," says Kirby. "You do not build relationships over Zoom."