Oneworld carrier British Airways is entering a codeshare agreement with Indian budget operator IndiGo to broaden its network on the subcontinent.
The co-operation, covering eight destinations, will take effect from 12 October, subject to government approval.
British Airways says the routes will be available as codeshares from London Heathrow, mainly through Mumbai.
They will comprise Kochi, Ahmedabad, Goa, Kolkata, Thiruvananthapuram, Rajkot, and Vadodara.
The carriers will also codeshare on the route to Amritsar via Delhi.
While Air India is part of Star Alliance, Oneworld does not have an Indian carrier.
Kingfisher Airlines had been a prospective Oneworld member, due to enter the alliance in 2012, before it ran into financial difficulties and subsequently collapsed.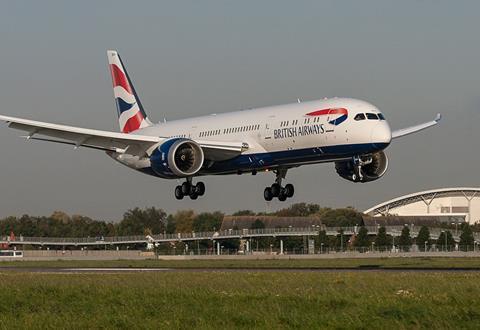 "Our partnership with IndiGo means that customers will be able to book their entire journey on one ticket, allowing seamless travel all the way from London to their final destination," says BA director of network and alliances Neil Chernoff.
IndiGo is expanding its operations and the carrier has an order backlog of nearly 1,000 Airbus A320neo-family aircraft.
Its senior vice-president for network planning, Abhijit Dasgupta, says the codeshare "expands the choices" available to BA customers.
"This step to provide seamless connectivity will not only support trade and commerce between the two countries but also offer convenient travel options to students and tourists," he adds.
BA is operating 56 weekly flights to five Indian cities: Delhi, Mumbai, Chennai, Bangalore and Hyderabad.