South Africa's political opposition and aviation unions are concerned that the government is prepared to abandon South African Airways' subsidiaries, including operator Mango, in order to remove potential obstacles to the proposed strategic partnership deal for the flag-carrier.
Under a legislative act for special appropriations, signed off on 6 July, the government was set to provide R2.7 billion ($182 million) for SAA's subsidiaries including just over R1.66 billion for maintenance division SAA Technical, another R819 million for Mango, and R218 million for catering arm Air Chefs.
But three unions – representing Mango pilots, cabin crew and other personnel – insist this funding for Mango has "yet to be paid out".
"Meanwhile the situation for workers at Mango continues to be dire and [is] worsening by the day," the unions state, adding that staff, already owed backdated salaries, have not been paid for two months and accusing the government's department of public enterprises of being "quite happy" to allow workers to "subsidise" the carrier with a near-absence of remuneration.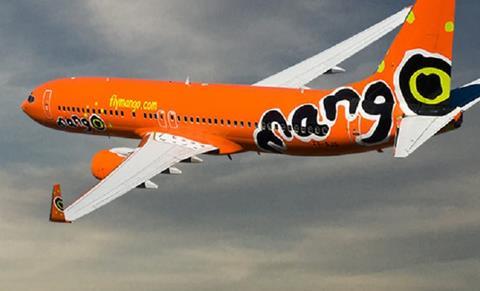 The unions claim that they initiated the process to place Mango under business rescue, approaching the courts to take urgent measures, after losing patience with the government following repeated attempts to seek clarity over the airline's future.
"They have greatly misrepresented the promise of funding to Mango management, employees, service providers and creditors," says Mango Pilots Association chair Jordan Butler.
Some aircraft leasing creditors have already filed a liquidation application for Mango, the unions add.
Mango's situation has generated scepticism and a belief among the unions that "ulterior motives are at play".
"It appears the government will see [Mango] dismantled in favour of their new Takatso consortium," they claim, referring to the investment consortium lined up to take a 51% share of SAA under a public-private partnership.
This view is echoed by the opposition Democratic Alliance party, which believes the government is trying to "jettison" Mango to avoid running into problems with finalising the Takatso agreement.
The party says Mango appears to have liabilities in excess of R2.5 billion, which means the legislated R819 million financial support would be insufficient.
"Even after the bailout is paid to Mango – if it's ever paid – Mango would remain insolvent and bankrupt," says Democratic Alliance parliamentarian Alf Lees. He says this could "potentially be a problem" for the Takatso deal.
He believes that, in order to free the Takatso consortium from the liabilities of SAA's subsidiaries, Mango could be abandoned – and ultimately liquidated – rather than provided with funding at taxpayers' expense, and a "similar situation" could engulf SAA Technical.
South Africa's government has yet to confirm the situation regarding SAA's subsidiaries. It stated, when the Takatso deal was unveiled, that it would jointly carry out, with the consortium, an assessment of the future of the subsidiaries as part of the due diligence process.