Irish regional carrier Stobart Air's parent company, Esken, is attempting to redeploy its ATR turboprop fleet with other operators following the airline's collapse.
Esken halted its financial support to Stobart Air after cancelling a planned sale of the carrier to Isle of Man investment company Ettyl, when Ettyl's funding arrangements fell through.
Stobart Air was forced to cease operations on 11 June and will be liquidated. Its franchise agreement with Irish flag-carrier Aer Lingus has been terminated.
Esken says it will continue to fund lease obligations on eight ATRs operated by Stobart Air, through to the lease expiry in April 2023.
"[We will] take immediate steps to seek sub-lease arrangements for the aircraft with alternative operators to mitigate the impact on [Esken]," it states.
Executive chairman David Shearer describes the failure to secure the disposal of Stobart Air as "disappointing".
"I am acutely aware of the impact this will have on the staff, customers and the businesses associated with the airline," he says. "But the continuing impact of the pandemic in terms of lockdown and limited travel has prevented us from achieving a better outcome."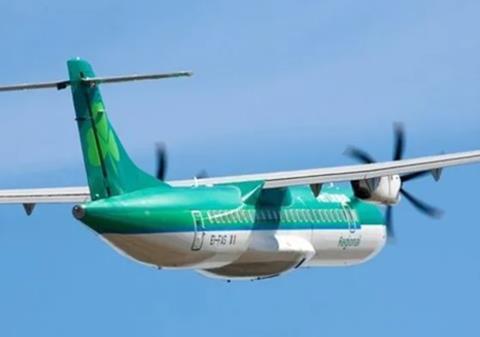 Esken says it is "taking steps to appoint a liquidator" for Stobart Air.
It had previously indicated that divestment of the airline, and other activities, under the Ettyl transaction would result in cash outflow of £49 million over the financial years 2022-24. Liquidation will increase this figure by £33 million, it says, if the company is unable to sub-lease the aircraft.
"Our focus now is to secure the position for the rest of the group and ensure that we have the necessary resources to support the recovery plans for our two core [aviation and energy] businesses," says Shearer.
Esken says it has attempted to minimise the cash requirements of Stobart Air, which employs 480 personnel.
But it says the pandemic-driven air transport crisis has resulted in "almost no flying" since April last year.
Efforts to find a buyer for Stobart Air were also "significantly hampered", it adds, by Aer Lingus's decision to end the franchise agreement with Stobart next year, in favour of another bidder.