Phillippine Airlines (PAL) has committed to nine A350-1000s that it will use on ultra-long-haul flights to North America and Europe.
The airline on 10 May signed a memorandum of understanding with Airbus for the nine jets – its first significant aircraft commitment since emerging from business restructuring.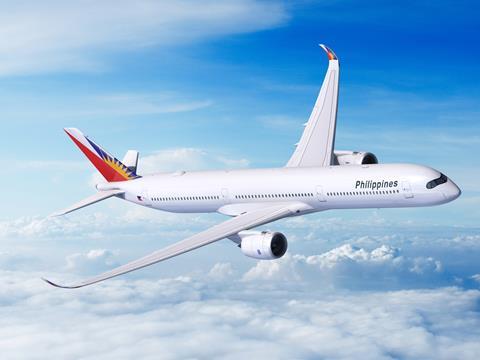 The first delivery is expected around 2025 and will run through 2027, states PAL, which also secured purchase rights for three more -1000s to "allow future expansion".
The commitment concludes the airline's 'Ultra Long Haul Fleet' project, and comes months after airline chief Stanley Ng hinted that the airline intended to "revisit" its orderbook, and was looking at the larger A350-1000.
It is possible that the new -1000s will replace, one-for-one, its existing fleet of Boeing 777-300ERs, which operate the bulk of PAL's long-haul flights. The airline has nine 777s in its fleet, and they are aged between five and 13 years old.
The new A350s also add to an existing fleet of two -900s. PAL had operated a larger A350 fleet but cut back amid restructuring.
The new aircraft will be configured in three classes: business, premium economy and economy, though PAL did not disclose the seat count.
Ng, in comments following the order, says the new A350s "would enable the airline to fly non-stop transpacific and transpolar routes in both directions all year".
"With an expanded A350 fleet, PAL will have the ability to once again provide a direct link from the Philippines to Europe," Ng adds.
Apart from A350s, PAL's fleet comprises A330s which mainly fly medium-haul routes to the Middle East and Australia, as well as A320 family aircraft, which are deployed on domestic and intra-Asian flights.