Icelandic budget airline Play is extending its network to the German hub of Frankfurt later this year, as it turns in an improving first-half performance.
Play is to open the Frankfurt service on 14 December, operating the route four to five times weekly over the winter season.
Frankfurt will be the airline's fourth German destination after Berlin, Hamburg and Dusseldorf.
Play has been shifting its strategic focus from the transatlantic bridge market – connecting European and US cities via Reykjavik – towards point-to-point services, says chief executive Birgir Jonsson.
This adjustment "has been successful and is working", he adds.
He says the airline has established a fleet of 10 Airbus A320neo-family aircraft, following the arrival of another A321neo in the second quarter, reaching the scale to which it has been ramping-up over the past two years.
The airline is in talks to introduce another aircraft for summer 2024 and four in 2025.
"Further fleet additions and various fleet development scenarios in the years following 2025 are also being explored," it states.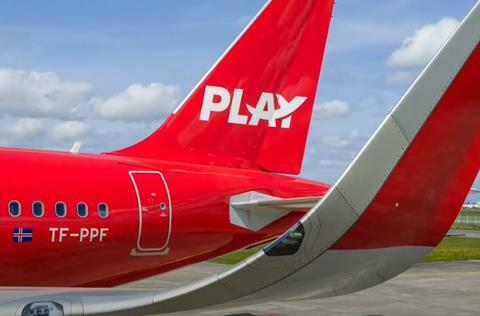 Play reduced half-year operating losses by 38% to $17.3 million, as revenues reached nearly $106 million.
Second-quarter results were "better than we anticipated", says Jonsson, as the airline edged into operating profit with a surplus of $416,000 for the three months to 30 June.
Jonsson says the figures support the carrier's previous forecast of an operational profit for the full year.
Play operated to 34 destinations in Europe and North America over the second quarter, doubling its capacity compared with the same period last year.
Despite this expansion, the load factor in the quarter increased by 10 points to 85%. The carrier states that 30% of passengers were travelling from Iceland, 27% to Iceland, and 43% were connecting through the bridge.