Frustrated UK cockpit representatives are urging the government to redress the licence-recognition imbalance with the European Union, as Ryanair's Maltese carrier Lauda Europe's recruitment for a London Stansted base lays down a requirement for European-licensed pilots.
With the UK no longer a member of the European Union Aviation Safety Agency, after the 'Brexit' withdrawal agreement came into force on 1 January, UK licences are no longer valid for use on EU-registered aircraft – like the Maltese-registered jets of Lauda Europe.
Lauda Europe is recruiting Airbus A320 captains and first officers for the Stansted base but its advertisement requires them to hold an EASA flight crew licence.
UK licence-holders wanting to fly EU-registered aircraft need to apply for validation from the relevant EU aviation authority.
The issue has been exacerbated by the pandemic-driven collapse in air transport demand, which has intensified competition for cockpit positions.
UK pilot union BALPA's acting general secretary Capt Martin Chalk tells FlightGlobal that UK-licensed pilots "are at a disadvantage" as a result of an "incomplete" withdrawal agreement.
"This is a consequence of that short-sighted decision," he says.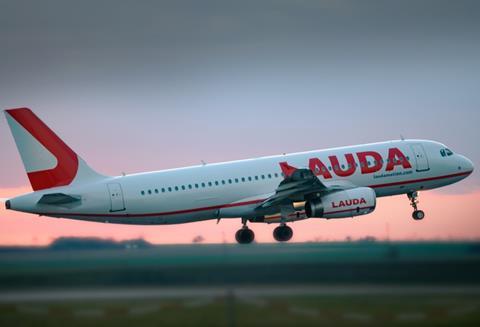 In a 21 July communication to the UK government, the union urged a "swift" mutual recognition of licences, claiming that UK pilot licences have been "seriously degraded in value and utility" and are essentially blocking pilots from obtaining new employment, even at UK airports.
Although UK pilots can seek EASA validation, it says, this is "unduly costly and time-consuming". The withdrawal agreement has also stirred further irritation by allowing EASA licences to remain recognised by the UK Civil Aviation Authority after Brexit, allowing EASA-licensed crews to fly aircraft on the UK register.
"The UK government has done little to even raise this contradiction with the EU," argues the union.
EASA points out that the European Commission has stated that there are no active discussions on the matter, nor are any foreseen.
It also cites the minutes of a recent air crew technical body meeting – comprising representatives of the Commission and EASA member states – which state that the post-Brexit agreement does not include any provisions relating to crew licensing.
"There is also currently no interest on either side to enlarge the agreement to licensing," the minutes add.
"[The] UK has repeatedly announced that it wants to diverge from EU rules and any extension of recognition of licences or training would also have to take account of the interests of the EU industry and ensure a level playing field between [the] EU and UK."
While Ryanair is expanding its operations with Boeing 737 Max jets, its current online careers site states that it is only actively recruiting for A320 pilots. Direct-entry 737 pilots are being asked to register interest in case of future openings.