UK budget carrier EasyJet is looking to secure delivery slots for its long-term fleet plan, in order to replace older aircraft.
The airline – which operates an Airbus single-aisle fleet – says it has 163 aircraft on order for delivery to 2028.
"We are now running a process to secure additional firm order positions for our longer-term fleet plan," it states in a third-quarter update.
"This would allow EasyJet to replace older aircraft with additional options to deliver future growth."
The airline is optimistic about its full-year performance, following a strong improvement in its third-quarter figures.
EasyJet turned in a third-quarter pre-tax profit of £203 million ($263 million), attributing the result to a combination of strong demand, higher per-seat revenue and a lower ex-fuel unit costs.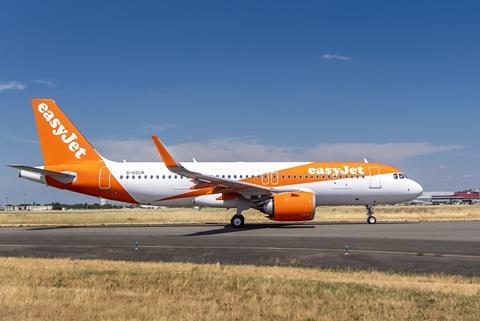 It adds that its holidays division was profitable, with a pre-tax figure of £49 million, over the three months to 30 June.
Load factor for the carrier reached 90% on average.
EasyJet is expecting a "record" pre-tax profit for the fourth quarter, and says the various factors are pushing the carrier to a "strong outcome" for the full year. The holidays division, it says, is on course for a £100 million pre-tax profit.
The airline adds that it is experiencing "good booking momentum" for the winter season, during which it will hike capacity by 15%, and expects ex-fuel costs to reduce.
"We are absolutely focused on mitigating the impact of the challenging external environment on our customers and flying them on their well-earned holidays," says chief executive Johan Lundgren.