Qatar Airways has introduced a second Boeing 737 Max 8, and will bring in another seven of the type by the end of July.
The Middle Eastern carrier took delivery of its first in mid-April after taking advantage of an opportunity to introduce a batch of the twinjets to its fleet.
Qatar Airways says it has since installed streaming in-flight entertainment and undertaken pilot-training programmes with the jet.
"Utilisation of the [Max 8s] will add capacity to help drive future growth, especially in short-haul markets," says the carrier.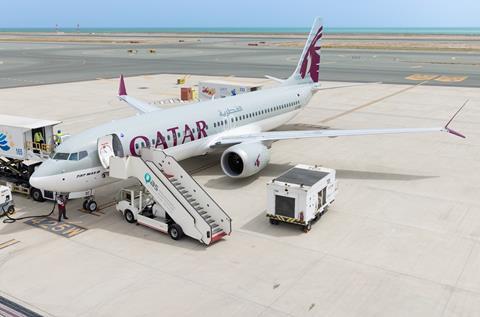 It says the type, used on the Doha-Kuwait route, will be deployed on other sectors primarily operating to Gulf Co-operation Council states.
"These efficient and modern aircraft are a welcome addition to the narrowbody fleet to support our sustainable expansion plans," it adds.
Qatar Airways has 25 of the larger 737 Max 10 on order, and the airline says the jets have a "number of operational synergies" – notably pilot training and ground-handling – with the Max 8s.
But it says the Max 10s will have alternative amenities including a different in-flight entertainment system.