Budget carrier Ryanair hopes to introduce its first Boeing 737 Max this year and up to 40 of the type ahead of the 2021 summer season.
But the airline warns that the financial year will be "very challenging" after it turned in a first-quarter net loss of €185 million ($217 million), in contrast to the previous profit of €243 million.
The carrier says it expects a "smaller" second-quarter loss, after restarting its flight programme in July, but is forecasting just 60 million passengers for 2020-21, and it remains unable to provide an indication of full-year profit figures.
"It is impossible to predict how long the [coronavirus] pandemic will persist, and a second wave of…cases across Europe in late autumn – when the annual flu season commences – is our biggest fear right now," it says.
Ryanair is hoping that the European Union will avoid additional travel restrictions on intra-EU services, through the implementation of protective countermeasures.
It expects to operate about 40% of its normal July schedule.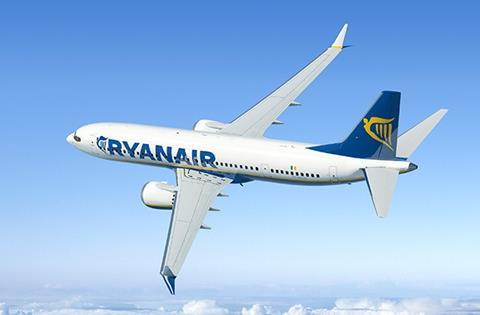 Most of its fleet was grounded between mid-March and the end of June and the airline transported only 500,000 passengers in the first quarter.
"Our aircraft and crews were kept current by operating skeleton schedules and currency flights which ensured that the group airlines were ready to efficiently resume flights when lockdown restrictions eased," it says.
Ryanair predicts to restore 60% of its schedule in August and 70% in September.
It says it has spent three months seeking measures to trim its cost base further, achieving agreements for "modest" pay cuts which will "hopefully help to avoid widespread job losses".
The Austrian-based Lauda division has been subjected to "deep and painful" measures, it adds, cutting the fleet to 30 aircraft for the summer period this year, cutting staff numbers, and closing its Stuttgart base.
Ryanair says it is discussing reductions in aircraft purchase prices and lease rates for the post-crisis recovery period.
The airline has been awaiting delivery of its first 737 Max for more than a year, after the type was grounded in March 2019.
Boeing has indicated a potential third-quarter return to service, and Ryanair believes it could receive its first Max 200 – a high-density version of the jet – by the end of 2020. "We remain committed supporters of these 'game-changer' aircraft," the carrier states.