Three airlines have signed letters of intent covering the acquisition of 50 Sukhoi Superjet 100s, as the MAKS 2021 air show opened in Moscow.
Red Wings accounts for half of the aircraft with an agreement to take 25 of the type in 2021-22.
The carrier says it has already leased seven Superjets since September last year and, under the new provisional deal, its fleet will expand to 32.
Red Wings claims this will make the airline the second-largest operator of the twinjet type.
Russian trade and industry minister Denis Manturov says: "[These agreements] for the transfer of Superjets confirm that the [aircraft] is a popular machine."
He adds that "it is right" that domestically-built airliners contribute to the modernisation of the Russian civil aircraft fleet.
Red Wings general director Evgeny Klyucharev says the carrier's first year of operations with the type shows the Superjet is "perfect for regional transport in Russia".
He says the Superjet fleet operates from three bases, flying 40 routes.
"We have serious plans for it," adds Klyucharev, stating that the carrier aims to open "dozens" of new destinations and add "two or three" bases over 2021-22.
Aeroflot Group carrier Rossiya has signed for 15 Superjets in an agreement which involves leasing company PSB Aviaprofleasing.
Although Rossiya has been taking dozens of Superjets from Aeroflot's mainline operation, with 38 brought in since January, the aircraft in the new agreement will be configured with a 100-seat single-class layout.
The first three single-class aircraft are set to be delivered to the carrier in August this year, says Rossiya.
"These airliners will continue to contribute to solving of one of the most important tasks, development of a network of affordable regional transportation in our country," says chief executive Sergei Alexandrovsky.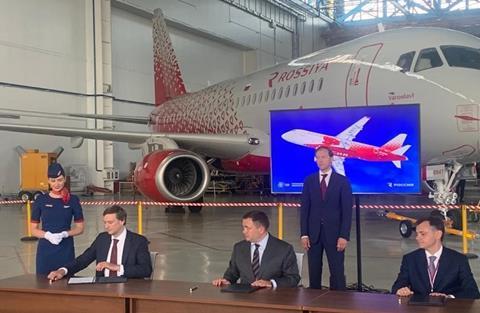 Southern Russian operator Azimuth, which was founded on the basis of a Superjet fleet, has reached a preliminary agreement to take 10 to be delivered up to 2026.
Azimuth says this is "part of a leasing deal" which includes participation by a financing organisation.
It already has 15 Superjets and general director Pavel Ekzhanov says the type operates across a network connecting southern and central Russia, western Siberia, and destinations in the CIS among others.
Manturov says Superjets have been used to open over 200 routes linking cities in Russia, adding that the type is contributing to "increasing the mobility of Russian citizens".