Russian carrier Red Wings is aiming to build a regional hub at Ekaterinburg's Koltsovo airport using a fleet of Sukhoi Superjet 100s.
Moscow-based Red Wings leased a Superjet from GTLK on 2 September, and another pair in the first few days of October.
It says the aircraft are being used for a "large-scale project" to connect Ekaterinburg to other domestic regions, enabling passengers to fly from Siberia and the Urals to central and southern Russia.
Since commencing the regional flights in mid-September, the airline has introduced services to nine cities, among them Nizhny Novgorod, Kemerovo, Novosibirsk, Makhachkala and Volgograd. Six of the nine routes have no competitors, the carrier says.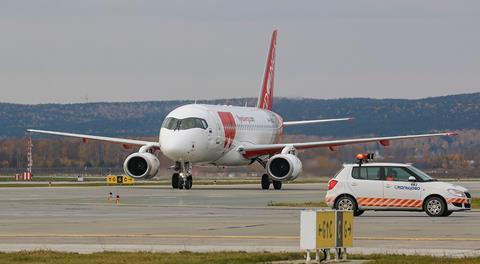 Red Wings has configured the Superjets with 100 seats in an all-economy layout.
"This project is based on a win-win principle," says Red Wings general director Evgeny Klyucharev. "It is an investment in the future restoration of demand for Russian air transport."
GTLK deputy director general Anton Korolev says the aircraft are being leased for 20 years, the "first time" such a long lease period has been agreed in the Russian market.
The lessor has specialised in supplying Superjets with state co-financing for the last five years, with 46 being delivered to domestic carriers. GTLK puts the total investment in the programme at nearly Rb94 billion as of October 2020.
"[Our] concessional leasing mechanism contributes to the development of the entire transport industry in Russia," says Korolev.
Red Wings is intending to expand the number of routes its serves from Ekaterinburg to 25 during 2021.
Klyucharev says the carrier intends to address the need to increase the proportion of flights bypassing the Moscow hub – the government has set a target of 50% – and to support the domestic aircraft production industry.
"Owing to their smaller capacity compared with other aircraft in our fleet, Superjets with 100 seats are ideal for this programme," he adds.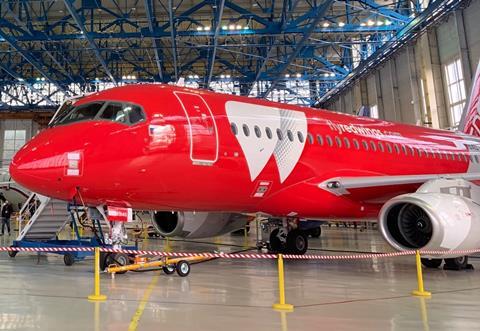 Russian airframer Irkut has taken over the Sukhoi Superjet 100 programme. High-level delegates visited the Irkut flight-test complex in Moscow Zhukovsky on 20 October, including a technical facility for the type. Red Wings pilots are being trained at the centre.
United Aircraft chief Yuri Slyusar claims Superjets transport more passengers in the country that all other models of regional jet.
"We are actively working to improve the aftersales support for the [Superjet]," he adds. "Our aim is to create a unified system of aftersales service for United Aircraft civil aircraft."