SAS has turned in its first profitable quarter for four years, with a third-quarter pre-tax surplus of SKr457 million ($41.6 million).
It also generated a net profit of SKr461 million for the period, the three months to 31 July 2023, as revenues reached SKr13.2 billion.
SAS chief executive Anko van der Werff says the result represents the Scandinavian carrier's first profitable quarter since 2019. The airline last posted a three-month pre-tax and net profit in the August-October period of that year.
"This is an important milestone," says van der Werff. "We still have a lot of work ahead of us with our transformation to secure long-term competitiveness, but I consider this a clear sign that we are on the right track and that our efforts are paying off."
SAS achieved the figures despite substantial disruption at its Copenhagen hub over the period, as a result of air traffic control problems.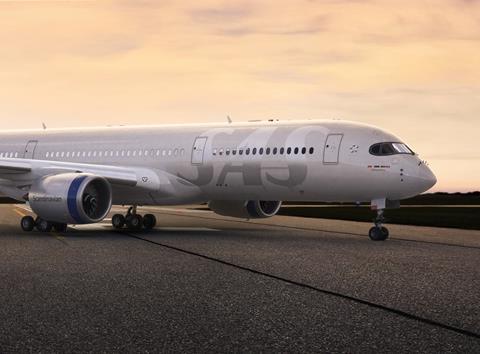 Over the first nine months of the fiscal year, SAS accumulated pre-tax losses of SKr3.4 billion – an improvement of 45%. Net losses reached SKr3.77 billion.
SAS is still implementing its 'SAS Forward' restructuring initiative under US Chapter 11 bankruptcy protection.
It says it expects to complete court approval of the process around the end of this year, with any regulatory approvals and procedures to follow in 2024.
The company maintains that there is "substantial interest" from potential investors to participate in an equity-raising process – a crucial component of the restructuring – which the company commenced during its third quarter.
SAS recorded a "continued positive trend" for passenger demand during the quarter, with a 42.5% rise in traffic against a 35.9% hike in capacity, which led to a higher average load factor of 81.5%.