Romanian carrier HiSky is to step up to widebody operations with the introduction of an Airbus A330-200 by the end of this year.
HiSky is a private airline which specialises in scheduled and charter passenger flights. Having emerged two years ago, the carrier operates from Romania and Moldova, with bases in Bucharest and Chisinau, and also flies from Cluj-Napoca.
It has been using a fleet of seven Airbus single-aisle jets, with a pair of A321LRs and an A319 alongside its four A320s.
The airline claims the A330 will be the first of its type to be registered in Romania. It will be stationed in Bucharest.
"HiSky becomes the only Romanian airline operating regular long-haul flights," it says.
Romanian flag-carrier Tarom had been a long-haul operator, with widebody Airbus A310-300s, but withdrew them some two decades ago to focus on more regional services with a single-aisle fleet.
HiSky signals that it could potentially operate to the USA or Asian destinations with the A330, which will "eliminate the need for stopovers" and provide "more flexibility and freedom".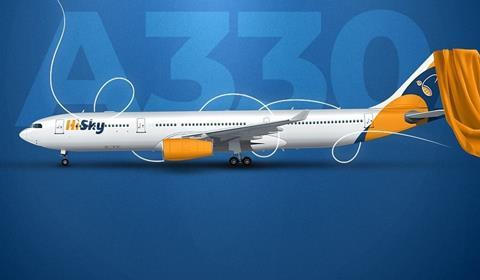 The carrier applied for US route authorisation in April, signalling that it would use A321LRs, and it has since been granted approval by the US Department of Transportation under the transatlantic 'open skies' arrangement.
"It is a spectacular aircraft, with which the market in the region is less familiar, but which opens up a lot of travel opportunities for passengers," says chief executive Iulian Scorpan.
HiSky is sourcing the A330 through a long-term lease agreement with US firm Air Lease, which already supplies several jets to the carrier. Air Lease has confirmed the agreement, but it has not identified the specific airframe.
"Over the past two years, we've experienced consistent growth that has brought us to this pivotal moment," says Scorpan.
"We've now become the fourth-largest air carrier at Romania's primary airport and the largest operator of Airbus aircraft registered in Romania. Our partnership with ALC has undeniably proven to be a successful one."