Russian leisure carrier Azur Air has been granted clearance to conduct maintenance across its fleet if the aircraft are on the domestic register.
Azur Air says it has received approval for maintenance on Boeing 777s and 737s from the federal air transport regulator Rosaviatsia. The company has technical facilities at Moscow Vnukovo.
The airline had previously obtained permission, four years ago, to service Boeing 767s registered in Russia – the carrier operates several 767-300ERs, a number of which carry domestic registrations.
It was also given authorisation to service 757-200s in 2020.
Extension of its FAP-285 certificate will enable Azur Air to maintain the airworthiness of its entire fleet, says the carrier, and support third parties as an independent maintenance organisation.
The airline's fleet includes 777-300ERs, 737-800s and 737-900ERs although – as with many Russian operators – most aircraft are leased and registered in Bermuda, which has the responsibility for their maintenance oversight.
Aeroflot Group's maintenance division A-Technics has also secured an extended FAP-285 certificate from Rosaviatsia, following an audit, to conduct servicing on several Airbus and Boeing types on the domestic registry.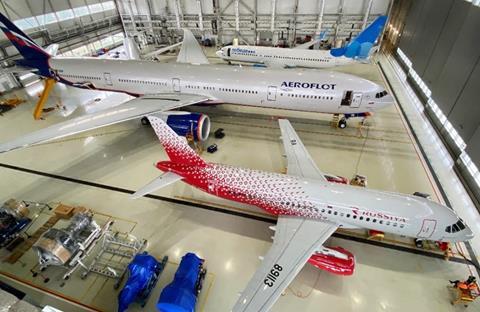 A-Technics says that it will be able to work on Airbus A350 and A320-family jets, as well as the Boeing 777, 747-400 and 737.
"[We have] everything necessary – highly-qualified personnel, rich experience, in-depth knowledge of aviation technology and the necessary equipment," insists A-Technics chief Mikhail Korobovich.
The company has facilities at Moscow Sheremetyevo and Orenburg, as well as line stations in several cities including Voronezh, Nizhny Novgorod, Ulyanovsk and Krasnoyarsk.
A-Technics, which received an FAP-285 certificate in 2018 to work on Irkut Superjet 100s, had been expanding its capabilities through European Union Aviation Safety Agency and Bermuda Civil Aviation Authority approval.
Siberian operator Yakutia has similarly been approved for Boeing 737 maintenance on domestically-registered jets, and it plans to obtain further clearance for Bombardier turboprops.
Yakutia says it passed the relevant audit on 18 March, and that all its 737s have been transferred to the Russian register.
It had previously been permitted to carry out maintenance on aircraft registered in Bermuda, says technical director Sergei Evsikov.
Yakutia had previously been performing maintenance on its Superjet 100 fleet.