Russian operator Rossiya aims to introduce a fleet of nearly 70 Sukhoi Superjet 100s by the end of next year, as part of a strategic overhaul of Aeroflot Group's operations.
Rossiya says the federal aviation regulator Rosaviatsia has included the Superjet type on the carrier's air operator's certificate, ahead of its commencing services with the twinjet type at the beginning of next year.
It plans to open Superjet services from Moscow Sheremetyevo to Nizhny Novgorod on 1 January, with four daily flights, as well as a connection to Belgorod.
These will be followed over the course of the month by flights to Nizhnekamsk, Magnitogorsk and Chelyabinsk as Rossiya starts building a regional network which will serve as a feeder to Aeroflot long-haul services.
"As the airline's fleet grows in the future, the number of destinations to which Superjet 100s fly will expand," the carrier says.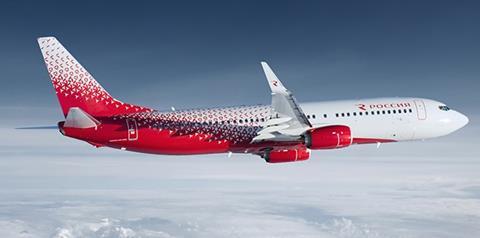 Rossiya says it intends to have 66 Superjets in its fleet by the end of 2021.
Its operations have previously been conducted with foreign aircraft types including Boeing 777s, 747s and 737s as well as Airbus A320-family jets.
Rossiya says Sheremetyevo, as a result of the strategic changes, is becoming "as important" as its St Petersburg station, where much of its fleet is located.
"Replenishment of the fleet will allow us to increase the number of flights from the regions to Moscow and the high frequency, in turn, will ensure the most convenient connections," says Rossiya chief Sergei Alexandrovsky.
Rossiya is acquiring the Superjets through transfers from Aeroflot, but it adds that foreign types will continue to operate both scheduled and charter flights.
Aeroflot operates 54 Superjets but has orders for additional aircraft.