Russian carrier Rossiya is expecting to start operations with Irkut MC-21s in summer 2022, if the twinjet passes a technical readiness review.
Rossiya is set to become the first carrier to fly the type in commercial service.
While the MC-21 introduction is still about a year away, the Aeroflot Group airline says it has commenced preparations to organise cockpit and cabin crew training, establish a maintenance network on potential routes, and update information systems.
Rossiya says the MC-21 will be an "integral part" of the Aeroflot Group strategy to build a carrier which operates a core fleet of modern Russian-built aircraft.
The airline is already bringing in Sukhoi Superjet 100s as part of this plan, with over 35 of the type already being commissioned. It expects to have 66 Superjets by the year-end.
Rossiya says it has been assured by Irkut that the technical acceptance process for the airline's first MC-21 is on track to start in spring 2022.
If there are no outstanding technical issues, it adds, the aircraft will begin serving Rossiya routes in the summer.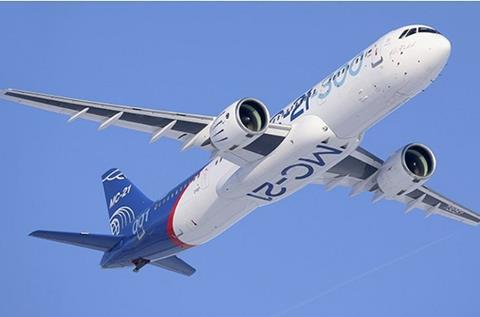 "These aircraft are designed to serve as an additional basis for the growth and development of Rossiya's domestic and international routes," says general director Sergei Aleksandrovsky.
He describes the MC-21 programme as a "priority national project" for the Russian transport sector.
Irkut says it completed mating of the left wing of the initial customer MC-21 on 14 July, following installation of the centre section and right wing.
The wings and centre section include composite structures supplied by the firm AeroKompozit in Ulyanovsk.
Irkut says it will start assembling the aircraft's systems "in the near future". The initial MC-21 is a -300 variant, to be powered by Pratt & Whitney PW1400G.
Alongside the MC-21 and Superjet fleet, Rossiya will also continue to operate foreign-built types including the Airbus A320 and Boeing 737, 747 and 777.