Aeroflot Group carrier Rossiya is claiming to have completed transfer of operational aircraft in its fleet to the Russian registry.
Rossiya says 125 of its aircraft are listed on the register.
"In order to minimise the risks of disruption of the flight programme during flights to foreign countries on these routes, aircraft listed in the Russian aviation register – and owned by Russian leasing companies – will be used," says the carrier.
Rossiya is a large user of Russian-registered types, with 68 Irkut Superjet 100s in the fleet, and the airline is due to be the first operator of the Irkut MC-21.
But it was also using various foreign types – including the Airbus A320 family, Boeing 737s, 747s and 777s – with a large proportion on the Irish and Bermuda registries.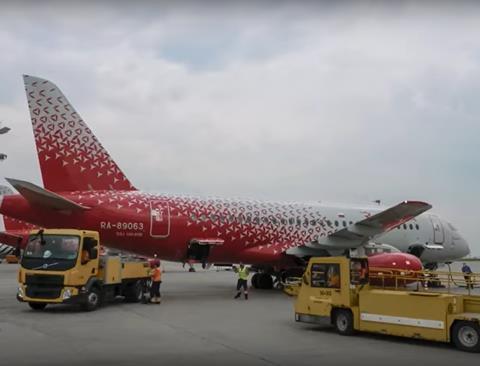 The Russian government had already been encouraging airlines to shift overseas-registered aircraft onto the domestic register. But in the wake of the Ukrainian crisis it has controversially been working to counter sanctions on leased aircraft through such measures, despite recognised airworthiness authorities' withdrawing certificates of airworthiness for the affected fleet.
Rossiya says its transfer has been conducted "in accordance with Russian aviation legislation", and that obtaining Russian airworthiness certificates will enable the airline to continue using the foreign-built fleet and ensure continued network service.
Its technical facility in St Petersburg has obtained an extended maintenance certificate from the Russian federal air transport regulator Rosaviatsia covering Airbus and Boeing models.