Royal Air Maroc is to introduce another batch of Boeing 737 Max jets, as part of a package of aircraft acquired through US-based Air Lease.
The Moroccan flag-carrier is to take four 737 Max 8s and a single 737-800 under the long-term lease agreement.
Air Lease says the twinjets will be delivered to Royal Air Maroc in 2024.
They will be taken from the backlog of aircraft already on order from the lessor.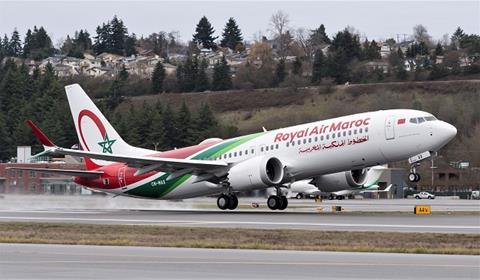 "Royal Air Maroc will receive additional aircraft that will strengthen and modernise our operational fleet," says the carrier's chief executive, Abdelhamid Addou.
Air Lease, which already has aircraft placed with the airline, values the agreement for the additional five jets at $300 million.
All 737 Max jets are powered by CFM International Leap-1B engines, while the 737-800 is fitted with the CFM56.
Royal Air Maroc recently disclosed a strategic plan to expand its fleet to some 200 aircraft over the next 15 years.