Royal Jordanian has disclosed that it achieved a JD27.5 million ($38.8 million) net profit for the third quarter, taking the profit at the nine-month mark to JD10.8 million.
This performance contrasts with the corresponding net losses of JD861,000 and JD71.6 million during the previous year.
Over the quarter the company transported 1.1 million passengers, an increase on the same period in 2022, while also managing to hike load factor to 79.1%.
The airline generated third-quarter revenues of JD233 million, up 16%.
Chief executive Samer Majali says the positive figures are the result of a new strategy for the flag-carrier which focuses on projecting Jordan as a tourism destination and Amman as a gateway to the Levant region.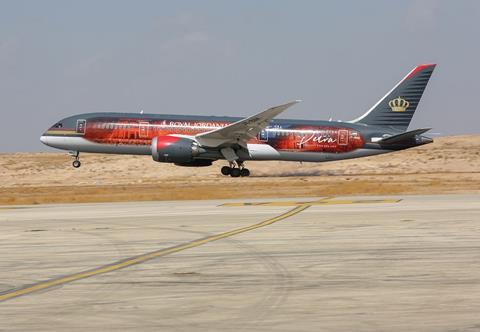 But Majali had told FlightGlobal, during the Arab Air Carriers Organization conference in Riyadh, that the carrier faced loss of revenues in the fourth quarter, route disruption, and higher fuel costs arising from the Israel-Gaza conflict.
"[The airline] has to take all necessary measures to reduce the effects as much as possible, by determining and reducing the offered seat capacity and controlling expenses, in an attempt to maintain the results of the third quarter and reach the break-even point by the end of this year," the carrier says.
Royal Jordanian states that, as of 30 September, its accumulated losses of JD389 million exceeded its capital, while its current liabilities exceeded current assets by JD179 million.
Jordanian corporate law stipulates that accumulated losses amounting to more than 75% of capital must result in liquidation unless suitable measures are taken, and the airline subsequently agreed a financial restructuring in early October to address the issue.