Royal Jordanian Airlines expects its break-even target to be pushed back at least to 2024 as a result of the continuing pressures on the air transport industry.
Speaking to FlightGlobal at the Arab Air Carriers Organization conference in Abu Dhabi, Royal Jordanian chief executive Samer Majali said the carrier had reduced losses in 2021 by 45% and was supposed to slash this by another $50 million this year.
But the hike in fuel prices is having an impact on the carrier's forecasts. Majali says the target of break-even, which was supposed to be next year, will be achieved "probably the year after".
He is confident that the Jordanian government will maintain its financial support for the airline, pointing out that the government has already had the chance to decide against continuing funding – although Majali adds that the amount received has been relatively small compared with other operators.
This support has nevertheless diluted the interests of other shareholders, essentially undoing much of the transition to private ownership, and Majali does not expect this situation to be reversed in the near future.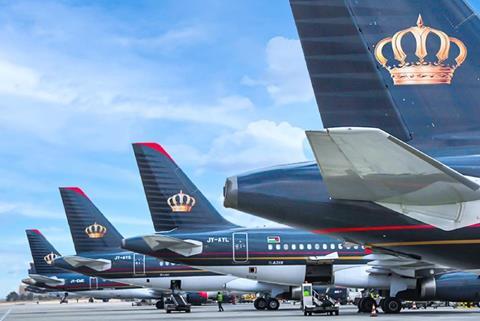 Majali returned in 2021 to the carrier he led for several years, to help it restart, after the operator was "effectively grounded" by restrictions imposed during the pandemic, he says.
He has overseen a rebuilding of the network, to the USA, the Middle East region, and Europe, and claims traffic activity – overall, if not on every individual sector – has returned to pre-crisis levels.
The airline is aiming to reinforce its network, raising frequencies on routes such as those to Iraq where it serves five cities.
Majali says the airline is "still the leading carrier in the Levant", and that re-investing in the region, to feed its long-haul routes, is central to its strategy – hence the modernisation of the Embraer fleet with E2 models as well as the introduction of Airbus A320neos.
Royal Jordanian looked at the Airbus A220 as part of the renewal but Majali says that it opted against the twinjet after analysing the operations of EgyptAir, which uses A220s, and considering such issues as transitional costs.
Majali says expansion of the long-haul fleet is part of the strategy, and that the airline is interested in the potential of the Boeing 787-10 which, he says, has "good range" and could be used to serve slot-constrained airports.
But he adds that the -10 would probably be explored only "towards the end of the delivery stream" of its current renewal programme.
Majali also hints at a possible refreshment of the airline's livery, as the modernisation progresses, although the 'Royal Jordanian' brand will remain unchanged.