Royal Jordanian Airlines has agreed a restructuring of the carrier's capital, in order to reduce the company's accumulated losses which amounted to nearly JD400 million ($564 million) at the end of last year.
The airline stated in its annual report for 2022 that accumulated losses exceeded the company's capital, noting that, under corporate law, such a condition could result in liquidation unless addressed.
Royal Jordanian held an extraordinary general assembly on 3 October for which the agenda included amortising JD14.8 million of the mandatory reserve, reducing the accumulated losses to just over JD385 million.
The agenda also involved discussing amortisation of a further JD201 million from the balance of accumulated losses by reducing the company's capital from 324.6 million shares to 123.6 million.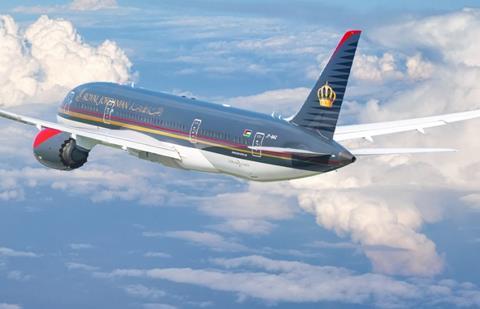 Royal Jordanian says the extraordinary assembly also agreed to implement a capital increase of 240 million shares – achieved by capitalising 70 million shares to the Jordanian government and covering the other 170 million through the airline's ownership of Jordan Airports Company.
Jordanian authorities disclosed earlier this year that, in June, a decision was taken stipulating that Royal Jordanian owned 90% of the airports company's capital.
Royal Jordanian suffered heavy losses over the period of the pandemic, and has since been affected by other pressures including fuel prices.
The company says that, despite losses last year, it opted to write off 62% of its capital rather than its entirety in order to reach an "acceptable ratio" of accumulated losses to capital.
Royal Jordanian chief executive Samer Majali says the restructuring of capital agreed at the extraordinary assembly will assist the carrier to modernise its fleet – the airline is seeking to expand to 41 aircraft, with the introduction of Airbus A320neo- and Embraer E2-family jets.
It plans to introduce the first pair of E2 aircraft in December this year. "The airline will resume the modernisation plan for its fleet at the beginning of 2026," it adds.