Russia's transport ministry has drafted new legislation outlining conditions for returning leased aircraft to foreign lessors, including approval from a government committee.
The proposed legislation also states that payments between lessors and lessees will be carried out in Russian currency – the rouble, which has sunk in value against the US dollar since mid-February – in a manner set out by the Central Bank of Russia.
Some 515 commercial aircraft leased from foreign companies are operated in Russia, with an indicative value of $10 billion, according to German-based credit rating agency Scope Ratings. Close to half of the aircraft are supplied by Irish-based lessors.
Although European Union sanctions require termination of leases and repossession of aircraft by the end of March, Scope argues that it is "unrealistic" for lessors to achieve this within a month – particularly given that, even under normal circumstances, repossessions from Russia could take up to six months.
This situation could, however, avoid a sudden glut in leasing capacity for the single-aisle market and potentially adverse effects on values.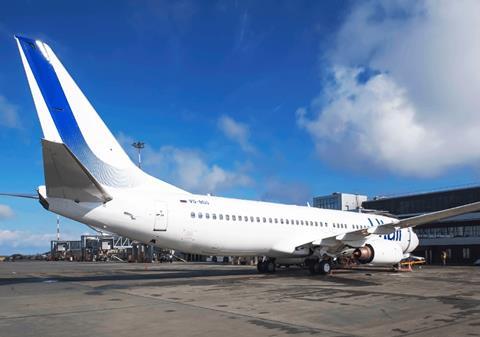 "Without co-operation from the [leasing] airline, it may also be difficult to track down aircraft in smaller airports," says Scope head of ESG and credit research Dierk Brandenburg, adding that airspace closures would require complex routing to retrieve them.
Russia's federal air transport regulator had already been working to transfer aircraft onto the domestic register, to reduce the cost of overseas airworthiness procedures.
The transport ministry is considering a nationalisation of the fleet to ensure that it can remain operational, given the strong dependence of Russian carriers on foreign-built aircraft.
"It is a plausible scenario that Russian authorities block foreign leasing companies from repatriating aircraft," says Brandenburg, but adds: "Airlines may still wish to co-operate to maintain access to foreign financing and aircraft in future years."
The transport ministry's draft legislation covers procedures for leasing, insuring, operating and maintaining foreign aircraft – as well as settling obligations – under the sanctions.
If lessors demand early return of aircraft or engines, it says, the lessee shall return them "based on the decision" of a government commission on import substitution.
In the absence of such a decision, it adds, the lessee will be able to continue using the equipment in accordance with the provisions of the contract. The legislation applies to contract concluded up to 24 February.
The lessee will ensure that the aircraft is operated in compliance with Russian federal aviation regulations, and maintained at approved facilities, and be responsible for insuring the aircraft with Russian organisations on terms equivalent to those stipulated in the contract.
Although the draft says settlements must be carried out "in the currency of the Russian Federation", it does not clarify the legal situation if aircraft lessors refuse such payment.