Russia's new unified carrier to serve the eastern side of the country, which is being based on the operator Aurora, has started conducting test flights ahead of opening a full initial schedule on 20 routes in mid-August.
Prime minister Mikhail Mishustin stated during a 30 July government meeting that a test service was flown on 26 July.
This flight operated from Yuzhno-Sakhalinsk to Petropavlovsk-Kamchatsky, and was followed the next day by Nogliki-Khabarovsk and Khabarovsk-Shakhtersk services.
Aurora general director Konstantin Sukhorebrik says the full flight programme will open on 18 August.
He says Aurora will operate on the network in co-operation with Yakutia, Khabarovsk Airlines and Kamchatka Aviation Enterprise – adding that the unified operation is loosely named 'Aurora Group'.
Mishustin had been presented with details of an airport terminal construction project in Yuzhno-Sakhalinsk, as well as plans for the carrier, a few days before the meeting.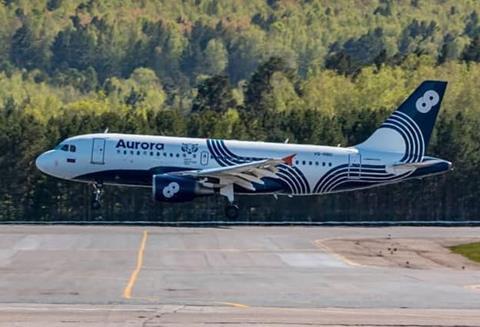 The terminal is set to be commissioned on 31 December 2022 and will be capable of handling 250 passengers hourly on international flights and 550 on domestic.
Mishustin signed an order in June allocating Rb1.58 billion to subsidise passenger air transport in the far eastern federal district.
The unified airline is intended to provide more accessibility to citizens and increase connectivity in remote areas.
Among the other routes to be served by the carrier are Khabarovsk-Anadyr, Vladivostok-Chita, and Komsomolsk-Blagoveshchensk.
"Over a year and a half, a register of hard-to-reach settlements was compiled, which can only be reached by aircraft," says Sukhorebrik.
He says the settlements will eventually be connected to the main cities in the region by a network.
Sukhorebrik says the available fleet comprises 147 aircraft but 45 more – all domestically-built types – are scheduled for delivery by 2025, by which point the carrier forecasts it will be transporting 2 million passengers.
State lessor GTLK recently indicated that the 45 aircraft would include Sukhoi Superjet 100s, Ilyushin Il-114-300s, modernised L-410s and the new Baikal Engineering LMS-901.
Fares on routes operated by the unified carrier will start at a minimum of Rb2,200 and rise to a maximum of Rb10,900.