Russian authorities are permitting S7 Group to return a pair of Boeing 737 Max jets to their leasing company, via export to Turkey.
Several lessors have been trying to recover assets from Russian operators in the aftermath of sanctions on the country's air transport industry.
But pessimism over the likelihood of retrieving aircraft and engines has led a number of lessors to write off the value of the airframes still in Russia.
Russia's government has set out conditions for returning aircraft to lessors including securing approval from a special commission.
Siberian operator S7 Group has a pair of 737 Max 8s, both on the Bermudan register and sub-leased to the carrier's Novosibirsk-based Globus operation.
The company was the first in Russia to receive the Max, taking VQ-BGW from US lessor Air Lease in October 2018.
Its other 737 Max is VQ-BGV which was sourced from Aviation Capital Group in the same month.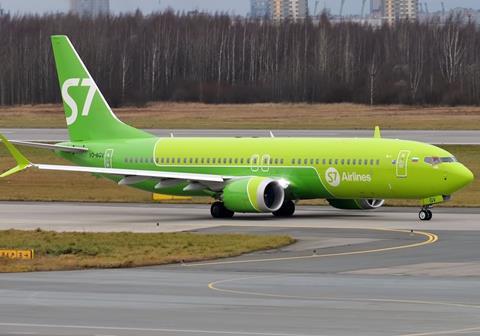 S7 Group had been planning to introduce several more Max jets, but the situation was complicated by the worldwide grounding of the type in early 2019.
Under a Russian government decree of 27 August, signed by prime minister Mikhail Mishustin, Globus is being granted permission – until the end of this year – to "export goods outside [Russian] territory" to Turkey.
It lists the goods as civil passenger aircraft, specifically the two 737 Max jets, which bear serial numbers 43302 and 44297.