Russian carrier S7 Airlines has turned in a profitable full year, with a pre-tax surplus of Rb12.7 billion ($156 million) for 2021.
The figure reverses the Rb5.2 billion loss recorded during the previous year, which was heavily affected by the pandemic.
S7's revenues rose by 60% to nearly Rb156 billion, according to the official figures filed to the Russian government's federal tax service.
The carrier had previously stated that it transported 17.8 million passengers last year, with the vast majority – over 16.2 million – taking domestic flights.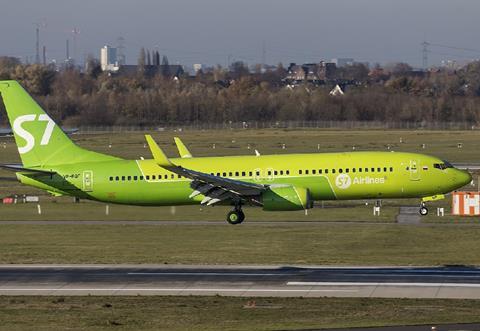 Russia's domestic market had experienced a strong recovery from the effects of the pandemic, and S7's passenger numbers for December had exceeded pre-crisis figures.
The airline's net profit last year reached Rb12 billion.
Cash reserves for the Moscow-based operator stood at Rb26.7 billion, down from the previous year-end level of Rb31.6 billion.
S7 achieved a pre-tax profit for the pre-crisis year 2019 of nearly Rb4.9 billion.