Budget carrier Ryanair is suggesting that delivery delays from Boeing could continue for another year, after a series of hitches at the US airframer.
Ryanair is renewing its fleet with 737 Max jets and had 119 of the type – out of a total fleet of 558 aircraft – at the end of the first quarter on 30 June.
It says some aircraft due to arrive in April have slipped into July. The airline expects the Max fleet to increase to 124 by the end of July and 173 by the end of the fiscal year in March 2024.
"We hope that our winter 2023 [and] spring 2024 deliveries will be less impacted," the carrier states in its first-quarter briefing.
"But already there are indications from Boeing that some deliveries may be delayed from April 2024 to June 2024."
The airline disclosed the fleet update as it turned in first-quarter net profits of €663 million ($738 million).
Ryanair attributes the performance partly to a strong Easter holiday period and the effects of an extra public holiday in the UK – pointing out that the Ukrainian conflict affected the same period last year.
Passenger numbers for the three months to 30 June reached 50.4 million with a load factor of 95%, and higher average fares drove a 40% rise in revenues to €3.65 billion.
Fuel costs rose 30% to €1.34 billion and this, along with higher staff costs, meant operating expenditure was up 23% to €2.94 billion. The airline says there was a "modest" rise in non-fuel unit costs.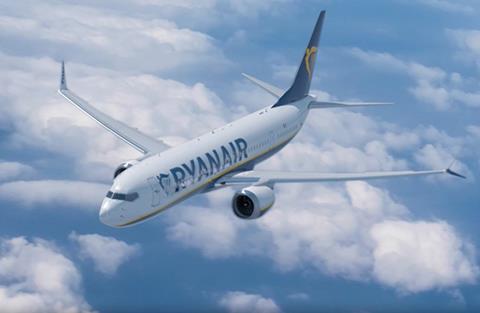 Ryanair says it is supporting its fleet expansion – which will include deliveries of up to 300 737 Max 10s from 2027, to complement the Max 8-200s – with more training facilities.
It has ordered up to 12 CAE simulators and has finalised plans to develop two aviation training centres in Krakow and the Iberian peninsula. The carrier will also upgrade its East Midlands centre in the UK.
Ryanair adds that the higher staff costs are partly due to its "heavily" investing in operational resilience, with higher crew ratios, to improve reliability over the summer season.
It says it is operating its largest-ever summer schedule. First-half demand is "robust", it states, and fares remain ahead of last year, although the trend "seems weaker" in the second quarter compared with the first.
Ryanair says there is "uncertainty" over Boeing aircraft deliveries for the second half – particularly given the logistics issues resulting from a recent US bridge collapse – but while it acknowledges that "meaningful" guidance is still out of reach, it is "cautiously optimistic" that full-year net profit will be "modestly ahead" of 2022-23's figure of €1.43 billion.